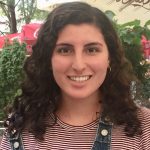 —

Katarina van Alebeek

—

Katarina van Alebeek is a third-year undergraduate at Stanford University. She is pursuing a BA in Political Science with a concentration in Justice and Law. This past summer, van Alebeek conducted research on post-conflict societies in Bosnia and Herzegovina at the Sarajevo School of Science and Technology and at the Post-Conflict Research Center. Her areas of focus are transitional justice, reconciliation, and intergroup relations. She hopes to follow her interests in post-conflict societies by working in international human rights law.
Kako očekujemo da se oporavimo kada je prošlost protkana nasiljem, sadašnjost zločincima omogućava nekažnjivost, a preživjelima pruža tako malo? Dva filma Joshue Oppenheimera, ''Akt ubijanja'' i ''Pogled tišine'', nude odgovor na ne samo ovo pitanje, već i na mnoga društvena pitanja koja se javljaju nakon genocida.