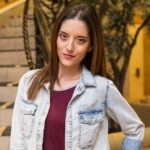 —

Sindy Chaidez

—

Sindy holds a Joint European Master's degree in Human Rights and Genocide Studies from Kingston University London, Collegium Civitas Warsaw and Universita degli Studi di Siena along with a Bachelor's degree in Political Science from the University of Nevada, Las Vegas. Sindy interned for the Post-Conflict Resolution Center (PCRC) and previously worked as a Site Coordinator for Communities in Schools of Southern Nevada coordinating community events and programs and providing case management to assist students. Sindy's interest in genocide prevention and peacebuilding brought her to intern for the International Conference on the Great Lakes Region- Ugandan National Committee on Genocide Prevention. During her time in the region, Sindy conducted research on transitional justice mechanisms in the Great Lake region with the aim to contribute to institutional knowledge at the Centre for Governance, Peace, and Security (GAPS).
Kada ljudi čuju za Boko Haram, na šta obično pomisle? Većina ljudi se tada sjeti 276 Chiboka učenica koje je kidnapovala teroristička organizacija, nakon čega je uslijedila međunarodna kampanja "vratite naše djevojke". Šta je motivacija iza ovakvih dijela, ko stoji iza Boko Harama, i koji su izvori ove grupe islamskih ekstremista?
Konačno zatvaranje (MKSJ) se očekuje krajem 2017. godine. Tokom 24 godine mukotrpnog rada, MKSJ je podigao optužnice protiv više od 160 osoba za teška kršenja međunarodnog humanitarnog prava tokom jugoslovenskih ratova devedesetih godina.