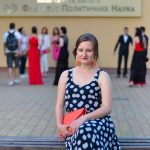 —

Andrea Aleksić

—

Andrea is a Balkan Diskurs trained youth correspondent from Banja Luka and holds a Master's in International Relations from the Faculty of Political Sciences in Banja Luka. Andrea is interested in volunteering and international youth cooperation.
The over exaggeration of physical characteristics in ironic and satirical ways is expressed through the art form known as the caricature, which is still very popular today. In addition to the newspapers, the caricature as an artistic expression of happiness can be seen on the walls of the gallery.
An important topic among cultural circles in Bosnia and Herzegovina has been the shutting down of the short film festival "Kratkofil Plus". The Banja Luka festival, which has successfully brought together numerous filmmakers and movie lovers for nine consecutive years, will no longer be held.
Nuclear waste from the Krško Power Plant might soon end up on the border between Croatia and Bosnia and Herzegovina where the construction of a repository was announced, causing fear among citizens of both countries.