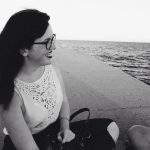 —

Anna Bianca Roach

—

Anna Bianca Roach is a former intern at the Post-Conflict Research Center in Sarajevo and a student at the University of Toronto Class of 2017 with a major in Peace and Conflict studies and minors in History and Human Geography.
Of all the groups of individuals that have been recognized for their bravery and humanitarian actions during the siege of Sarajevo, perhaps the most effective and far-reaching organization was La Benevolencija.
Enrico Dagnino's photography tells the stories of conflict. Most often, these stories are difficult to convey, difficult to observe, and difficult to understand. An interview with Dagnino gives insight into both his career as a photojournalist and his exhibit, "Untitled".
On 29 June 2016, the War Art Reporting and Memory (WARM) Festival hosted the exhibition "Afghanistan: After Enduring Freedom" at the Java Gallery in downtown Sarajevo. The exhibition featured photographs captured by Andrew Quilty, an Australian freelance photographer currently based in Kabul, Afghanistan.