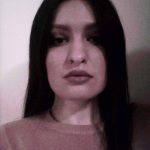 —

Kristina Gadže

—

Kristina is a Balkan Diskurs trained youth correspondent from Ljubuski. She studies journalism at the University of Mostar's Faculty of Philosophy. In addition to her studies, she writes for the student portal Treći.ba and runs the morning program of Treći student radio.
Banja Luka native Aida Šehović was hit by war when she was just 15 years old. Now, Aida has made it her mission to use art as a means to commemorate the victims of genocide and to educate citizens worldwide about the consequences of war. 
Five years ago, the internationally recognized organization Dogs Trust BiH was established with an aim to help animals that have been abandoned or are living in the streets. The organization offers a variety of programs, including veterinary training, free spaying and neutering for dogs, and education for children.