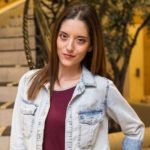 —

Sindy Chaidez

—

Sindy holds a Joint European Master's degree in Human Rights and Genocide Studies from Kingston University London, Collegium Civitas Warsaw and Universita degli Studi di Siena along with a Bachelor's degree in Political Science from the University of Nevada, Las Vegas. Sindy interned for the Post-Conflict Resolution Center (PCRC) and previously worked as a Site Coordinator for Communities in Schools of Southern Nevada coordinating community events and programs and providing case management to assist students. Sindy's interest in genocide prevention and peacebuilding brought her to intern for the International Conference on the Great Lakes Region- Ugandan National Committee on Genocide Prevention. During her time in the region, Sindy conducted research on transitional justice mechanisms in the Great Lake region with the aim to contribute to institutional knowledge at the Centre for Governance, Peace, and Security (GAPS).
When people hear about Boko Haram, what usually comes to mind? Many would recall the 276 Chibok schoolgirls who were kidnapped by the terrorist organization followed by the international campaign to 'bring back our girls'. Yet what are the motivations behind such a reprehensible act, who is behind Boko Haram, and what are the origins of this Islamic extremist group?
The ICTY is getting ready to close its doors permanently in 2017. During their 24 arduous years, the ICTY prosecuted over 160 of those responsible for serious violations of international humanitarian law during the Yugoslav wars of the 1990s.