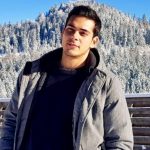 —

Slobodan Blagovčanin

—

Slobodan is a Balkan Diskurs trained youth correspondent from Bijeljina. He works as the Project Manager of the Youth Resource Center in Tuzla.
The Arab Spring in Syria resulted in the influx of over 5 million refugees into Europe, tens of thousands of whose bones were swallowed by the Mediterranean Sea. While Syria burned and refugees ran in the pursuit of a safer life, Kostas Pinteris from the island of Lesbos offered them a helping hand.