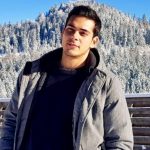 —

Slobodan Blagovčanin

—

Slobodan is a Balkan Diskurs trained correspondent from Bijeljina. He is the project manager of the Youth Resource Center Tuzla and a youth coordinator for the PRONI Center's CAT (Citizens Against Terrorism) campaign. Slobodan also previously served as a youth worker at the Helsinki Committee for Human Rights Republika Srpska.
"It was the winter of 1996. The month of March. It was cold, very cold."
The Arab Spring in Syria resulted in the influx of over 5 million refugees into Europe, tens of thousands of whose bones were swallowed by the Mediterranean Sea. While Syria burned and refugees ran in the pursuit of a safer life, Kostas Pinteris from the island of Lesbos offered them a helping hand.
"His gaze was full of contempt, but his words tried to convince me that he could not live without me. He insisted it was the only way."