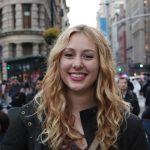 —

Kaleena McKell

—

Kaleena recently completed a BA in Communications with an emphasis in News Media and a BA in Russian Language and Literature from Brigham Young University. During her undergraduate education, she completed an internship for a Russian newspaper in Riga, Latvia, worked as a radio segment producer for BYUradio, and worked as a reporter and editor for her university's newspaper. Kaleena's main interests revolve around the role of journalism as it relates to Eastern Europe and post-conflict societies and additionally how narrative stories can be integrated with new digital platforms. She believes digital storytelling – including thorough reporting, photojournalism, and documentary forms – has the power to affect change and bring light to underrepresented issues. Kaleena is now obtaining a Master's at the Aristotle University of Thessaloniki in Risk Communication and Crisis Journalism.
Much of the fighting that took place during the Bosnian war of the 1990s occurred in the country's mountains, hills, and countryside. Once littered with landmines that led to the destruction and decay of the hiking trails and mountain huts that served to connect the country and its people, Bosnia and Herzegovina is now re-establishing itself as a hub for outdoor and adventure tourism as it invites people to return to its mountains to enjoy the beautiful scenery of the Dinaric region.
Media coverage of Venezuela's deteriorating situation has centered on political leaders and Western responses, with little focus on the personal plight of individual citizens. Local photographer Oscar B. Castillo has spent the last ten years of his life documenting this underserved narrative: the impact of conflict and violence on the day-to-day lives of Venezuelans.