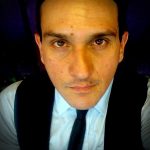 —

Louis Monroy Santander

—

Louis Monroy Santander is a former intern at the Post-Conflict Research Center in Sarajevo. He is a student at the University of Birmingham in his third year of doctoral studies in international development. Louis is originally from Bogotá, Colombia where he obtained his bachelor's degree in Political Science and International Relations. He also obtained two masters degrees, one in International Development and a second in Social Research, both from the University of Birmingham.
Kirsten Johnson's Cameraperson is a highly personal take on her experiences of shooting various documentaries around the world.
Balkan Diskurs correspondent Louis Monroy Santander talked to Emir Kapetanović, director of "Djeca Mira" (Children of Peace) - a documentary that takes a look at the post-Dayton generation in Bosnia, their concerns, their realities and perhaps more importantly their dreams.
Belgian photo-journalist Laurent van der Stockt and French reporter Lucas Menget have jointly collaborated to create "Baghdad, Chronicle of an Immured City", a film about the day to day experiences of social divisions in war-ridden Baghdad.