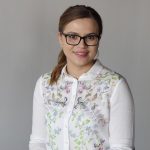 —

Medina Rizvanović-Razić

—

Medina is a Balkan Diskurs trained correspondent from Sarajevo and has an MA in Business Communications. She previously wrote for the online portals federalna.ba and visitsarajevo.ba. and has worked for the daily newspaper Oslobodjenje. Medina currently works for the business portal akta.ba.
Merima Dervović from Visoko is a student of the Faculty of Philosophy, Department of Italian Language and Literature and is a person living with a disability. Merima's primary goal is to initiate an open dialogue about the prejudices against disabled people and the challenges they face in society.