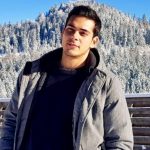 —

Slobodan Blagovčanin

—

Slobodan is a Balkan Diskurs trained correspondent from Bijeljina. He is the project manager of the Youth Resource Center Tuzla and a youth coordinator for the PRONI Center's CAT (Citizens Against Terrorism) campaign. Slobodan also previously served as a youth worker at the Helsinki Committee for Human Rights Republika Srpska.
"Njegov pogled pun prezira, koji do tada bezbroj puta nisam tako shvatala, uvjeravao me je da bez mene ne može da živi. Ubjeđivao me je kako je to jedini način."
Arapsko proljeće u Siriji imalo je za rezultat preko 5 miliona izbjeglica u Evropi i desetine hiljada istih čije kosti je progutao Mediteran. Dok je Sirija gorila, a izbjeglice bježale u potrazi za sigurnim životom, ruku spasa im je pružao Kostas Pinteris sa ostrva Lezbos.