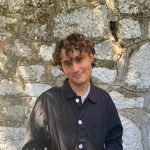 —

Adrian Feinberg

—

Adrian is a rising sophomore at Stanford University pursuing a dual bachelor's degree in International Relations and Symbolic Systems. His academic areas of interest include political development in the wake of mass atrocities, Jewish experiences of genocide in Eastern Europe, and transitional justice processes. At Stanford, he is involved with various student organizations, including the Stanford International Affairs Society, the Stanford Film Society, and the Forum for American-Chinese Exchange at Stanford. He also serves as a Research Assistant in the Department of History analyzing comparative historiographical narratives about causal debt violence against Jews in the Middle Ages.
Polish-born Jewish legal theorist Raphael Lemkin first coined the term 'genocide' in his 1944 work 'Axis Rule in Occupied Europe: Laws of Occupation, Analysis of Government, Proposals for Redress.' Lemkin's description of genocide as entailing "criminal intent to destroy or to cripple permanently a human group" laid the foundations for the Genocide Convention and genocide studies as a sociological discipline.
There, behind the apartment blocks which once obscured the festival's inaugural 1994 iteration from VRS snipers, we settled down for a special pre-screening of Jasmila Žbanić's still unfinished documentary, Blum.