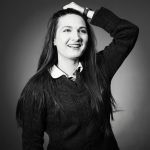 —

Alma Mujanović

—

Alma is a Balkan Diskurs trained youth correspondent from Sarajevo. She is a student at the University of Sarajevo's Faculty of Medical Sciences. Alma was born with hearing impairments and finished elementary education in the Center for Hearing and Speech Rehabilitation. Today, Alma is a human rights activist and musician working in several Sarajevo-based non-governmental organizations. She is a fellow of the European Forum Alpbach and the Humanity in Action program.
Rudolf Slomo, known as "Rudi", was one of Sarajevo's unusual legends. A man who, left to his own devices, lived a bohemian lifestyle. He loved people and many knew him as a good man who lived a full, tireless, and active life. Rudi was also a member of the deaf community.
Two young women discuss the challenges and triumphs in their educational and professional careers, exposing the exclusion and discrimination faced by many people living with disabilities in Bosnia and Herzegovina.