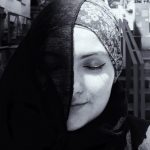 —

Amila Žunić

—

Amila is a trained Balkan Diskurs youth correspondent from Bihać. She is 22 years old, and a graduate professor of Bosnian language, literature and history. She also works as a journalist for RTVUSK, and as a correspondent for Karike magazine. She has written for several local portals, collaborated with several media outlets on various stories, and attended many trainings related to journalism.
A mixed media artist with a special talent for illustration and digital art, his works are exhibited in art galleries, institutions and public spaces around the world, from Sarajevo and Mostar, to Berlin, New York, Miami, Los Angeles and Taiwan. His works Madness Continuous and Depth were selected by the Platform for Contemporary Art and presented in New York's famous Times Square.
Azra Dedić was born in Bihać, the second child in the family. When she was born during the war years, her mom gave birth to a baby with Down syndrome--to whom she gave all her love and attention. Now twenty-four years old, she's known to the public as a European Judo Champion, and is so much more. She's the golden girl from Una, as many call her dearly.
The best argument against the use of tobacco products is the fact that one of the more than three billion smokers in the world dies every eight seconds.