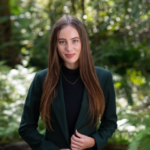 —

Annabelle Werner

—

Annabelle Werner graduated Political Science, International Development Studies, and Human Rights and International Legal Studies triple major. She is fascinated with topics relating to international human rights, global governance, peacebuilding, and the rule of law. In the UCLA community, she is a leader in the undergraduate LA Human Rights Initiative and competes in Division 1 Cross Country and Track.
On July 11th, 2023, thousands of mourners arrived at the Srebrenica Memorial Center in Potočari to commemorate the 28th anniversary of the Srebrenica genocide. This ever-expanding cemetery serves as a final resting place for many of the approximately 8,000 Bosniak men and boys who were killed in the civilian massacres of 1995. Although nearly three decades have passed since the genocide, 30 victims were buried this year, the youngest of whom was a 15-year-old boy. Additionally, the year witnessed 71 re-associations, referring to the burial of newly found remains of victims who have already been identified and partially interred.
Leading up to the 28th commemoration of the Srebrenica genocide, the Srebrenica Youth School featured a lecture by Dr. Dino Abazović, a professor from the Faculty of Political Sciences at the University of Sarajevo.
For some, maps serve as a streamlined tool to help one get from point A to point B. But for the team of the Subjective Atlas project, the act of cartography itself represents a complex journey informed by politics, history, and the personal relationships we have to the landscape in which our lives unfold.