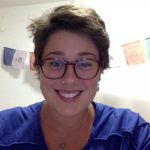 —

Christina Hasenhüttl

—

Christina holds a BA in Liberal Arts and Sciences with a focus on International Justice from Leiden University College The Hague where she was taught how to conduct research across various relevant disciplines. Originally from Austria, she finished her last two years of high school at the United World College in Mostar where she developed her passions for education, social justice, environmental sustainability and gender equality; themes which are also closely linked to her research interests. In the past, Christina engaged in various organizations and projects such as teaching at the Mostar Summer Youth Programme, coordinating weekly community dinners in order to combat food waste in The Hague, and advocating for women's rights by directing the feminist play 'the Vagina Monologues'.
The Alliance for Historical Dialogue and Accountability (AHDA) is part of a growing field of scholarship exploring the historical legacy of conflict and its effects on contemporary politics, societies, and cultures.