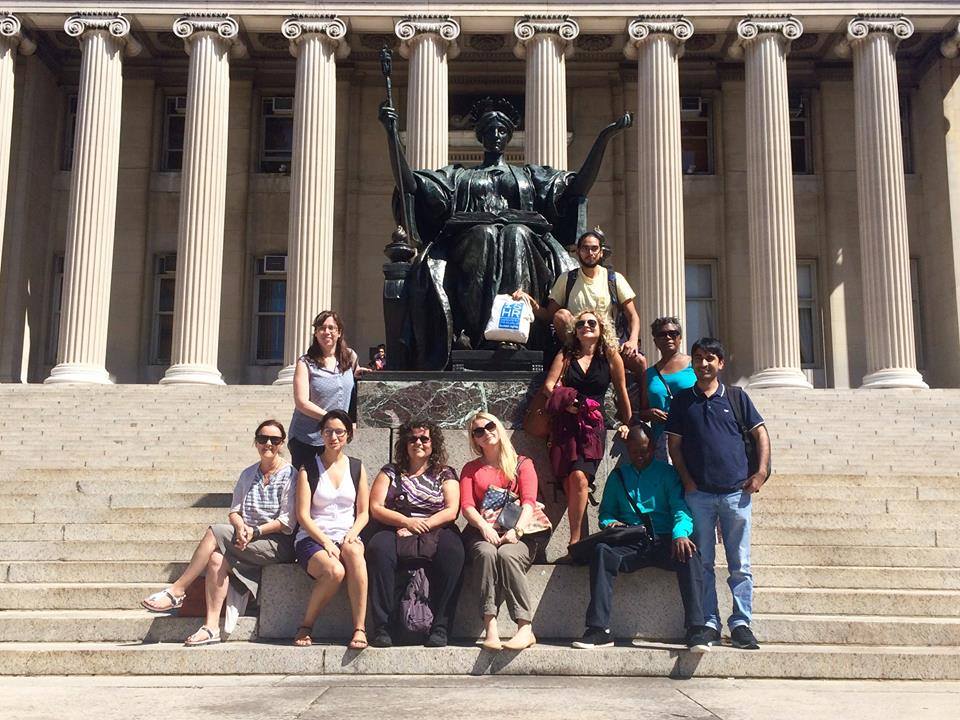 The Alliance for Historical Dialogue and Accountability (AHDA) is part of a growing field of scholarship exploring the historical legacy of conflict and its effects on contemporary politics, societies, and cultures.
The Alliance for Historical Dialogue and Accountability (AHDA) is part of a growing field of scholarship exploring the historical legacy of conflict and its effects on contemporary politics, societies, and cultures. Such a framework proves useful when applied to peacebuilding and reconciliation efforts in the Western Balkans and other post-conflict contexts.
The Alliance for Historical Dialogue and Accountability (AHDA), part of Columbia University's Institute for the Study of Human Rights, serves to bring together students, scholars, journalists, educators, artists, policymakers, civil society representatives, and others in an effort to address the political ramifications of recent conflict, while navigating the role of historical memory on contemporary politics, society and culture.
Through the AHDA program, participants forge bonds with other organizations, both internationally and locally.[1] Recipients of the AHDA fellowship acquire skills in fundraising, advocacy, and leadership, deepening their understanding of what it means to engage with the past. This complements their wider goal of fostering historical dialogue and useful discussion within their respective societies.[2] Their annual report further highlights their goal to build a network of advocates within a dynamic academic environment conducive to the development of successful and innovative projects.
Founder and president of the Post-Conflict Research Center, Velma Šarić, was one of twelve fellows who took part in the 2016 program.[3] With support from the Robert Bosch Stiftung Foundation, Šarić chose to focus on the role of history in the creation of constructive national identities – an interest that stems from the reverberation of the Bosnian War throughout her academic and professional career. Her continual confrontation with the past reinforced the need to articulate 'emotions and ineffable experiences' through text, establishing a factual record that would guard against a 'culture of denial'. Besides the historical merits of her work, it also enhanced Šarić's understanding of her own past, her nation, and the globalizing world. [4]
Through seminars, workshops, site visits, and classes, the AHDA program afforded Šarić numerous opportunities. She chose to work on Ordinary Heroes, a multimedia educational project that uses narratives of moral courage to promote tolerance, reconciliation and interethnic cooperation in the Western Balkans. Amidst a diverse, dynamic environment, AHDA provided a platform to academically consolidate her research. Šarić's work was later presented to other organizations and potential donors on an individual as well as institutional plane.[5]
Also participating was Maria Jose Kahn Silva, an art historian from Argentina. Kahn Silva runs the Educational, Artistic and Museographical Development at ESMA Memory Site Museum in Buenos Aires, where she liaises with international organizations to promote the value of human rights and historical memory. During the fellowship, Kahn Silva developed an educational program where security and military students visit the ESMA Memory Site in order to learn about the atrocities committed during the military dictatorship in Argentina. She also took the opportunity to learn from other human rights organizations represented – such as PCRC – and the cultural specificities of their projects.[6]
Besides forging and strengthening connections, AHDA participants benefit in other valuable ways. Born in the Democratic Republic of Congo, Simon Kaneneka survived the two wars that ravaged the country. For Kaneneka, the AHDA fellowship not only honed his skills in journalism and advocacy but also inspired the championing of accountability and justice through dynamic forms of media. After his fellowship, he became the Director of Communication and Engagement at IMPACT, an NGO that promotes dialogue within war-afflicted groups. Through documentary and storytelling, IMPACT continues to help survivors of sexual violence and former combatants socially reintegrate into their own communities.
Another notable participant is Natalie Petrova, Director of Public Relations at Memorial International Society in Moscow. The society was founded in 1989 to address the legacy of political persecution in USSR. As part of the AHDA program, Petrova worked on "Burying the Dead and Ghosts of Soviet and Stalin's Past", an exhibition presenting the 'social memories' of the 1917 October Revolution. Many have contributed their personal belongings to this collection, including letters, memoirs, pictures, and pieces of embroidery. Building on this experience, Petrova currently designs campaigns and art projects that explore personal and societal memories of the Soviet regime.
Coming from various backgrounds, the AHDA fellows are united by the project of fostering historical dialogue – a central component in PCRC's peacebuilding aim. PCRC recognizes that human rights research must transcend traditional academic boundaries. As part of a global and regional network, the organization's participation has helped to further its wider goals toward violence prevention and transitional justice.
---
[1] http://www.humanrightscolumbia.org/ahda/overview
[2] Annual report p 8
[3] Annual report p 9
[4] Annual report p 26
[5] Annual report p 38
[6] Personal Interview with Kahn Silva