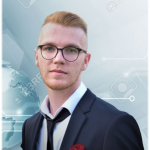 —

Mirza Mujdžić-Jojić

—

Mirza is a Balkan Diskurs trained youth correspondent from Gradačac. He is a student at the International Burch University in Sarajevo at the Faculty of Economics and Social Sciences, Department of Management.
During the COVID-19 pandemic, restrictions such as quarantine, curfew, and other forms of movement restriction are considered one of the necessary health measures that can save millions of lives. For women and girls, however, they can increase the risk of violence or even death.
Twenty-one-year-old Kenan Suljić is one of the creators of the world's first application to fight depression.