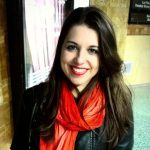 —

Lidia Kurasińska

—

Lidia Kurasińska is a graduate of the University of Westminster, London. She is a freelance journalist and editor and has written about issues ranging from corruption to security and surveillance for a number of mainly UK-based publications.
Despite widely documented diversion of weapons to the battlefields of Syria and Yemen, Balkan exporters continue to reap profits from the lucrative trade.
It has been eleven years since the Armed Forces of Bosnia and Herzegovina were established. While a number of challenges remain, the defense reform and subsequent unification of the forces offers an example of how carefully crafted legislation can support the advancement of post-war reconciliation and state-building efforts.
Twenty-three years to the day since it was demolished by Serbian nationalists as part of an ethnic cleansing campaign, Banja Luka's grand mosque, Ferhadija, was reopened on 7 May. Despite continuing tensions between the Serbian and Bosniak population of Banja Luka, the ceremony passed off without incident and marked an important date in the city's troubled history.