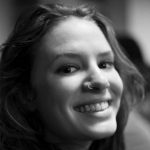 —

Madeleine Crean

—

Madeleine Crean is a former intern at Post-Conflict Research Centre in Sarajevo and holds an MA in Media and the Middle East from the School of Oriental and African Studies (SOAS). She earned her BA in Political Science and German Literature from the University of Toronto. Her MA studies focused on the use of new media as a tool of war in Syria and Turkey, as well as the use of media strategies as political representation. Upon completing a film project documenting the gentrification of a Kurdish neighborhood in Tarlabasi, Istanbul, Madeleine developed an interest in multimedia as a tool for documenting human rights violations.
Control over mass media narratives gives media producers the capacity to influence what the public believes about what is happening in their localities and across the world.
In 2011, peaceful protests started in Daraa, Syria following a wave of large-scale protests across the Arab world. Bashar al-Assad's regime brutally cracked down on all opposition to his rule and met protests with violent repression.
The ICTY is getting ready to close its doors permanently in 2017. During their 24 arduous years, the ICTY prosecuted over 160 of those responsible for serious violations of international humanitarian law during the Yugoslav wars of the 1990s.