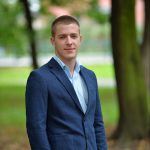 —

Milan Sofrenić

—

Milan is a trained Balkan Diskurs correspondent from Bijeljina, studying information technology at the University of Synergy in Bijeljina. He worked as a volunteer in the youth center PRONI where his engagement covered the areas of youth work, youth mobility, and promotion of healthy lifestyles. As part of these activities, he held a workshop that, through dynamic group work, helps young people to get out of their comfort zone, to get to know themselves and their potentials better. Milan enjoys working on himself, his potentials, and passing on his knowledge to others.
Standing on a small hill along the left bank of the Vrbas, the Kastel Fortress in Banja Luka has always been a suitable strategic point.
The departure of young people from Bosnia and Herzegovina (BiH) in recent years is one of the most pressing topics, and though talked about often, no solutions are offered. When speaking about leaving Bosnia and Herzegovina, the focus should not only be on young people, but on all generations. The idea that the most educated and capable people are leaving the country is also no longer representative.