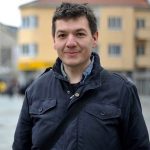 —

Milorad Milojević

—

Milorad began his career in journalism in 1999 working for Banja Luka's Alternative Television. In 2002, he became a reporter for Radio Free Europe Banja Luka and was also an editor for Banja Luka's "Radio Balkan". He writes articles for diskriminacija.ba, Balkan Diskurs, and several other media outlets. In 2004, he and his colleagues established the Association of Young Journalists of Republika Srpska where he serves as President. The association now has over 200 members from across BiH.
Some key questions to ask when analyzing the role of the objective local media in BiH is: How marginalized are those outlets that are reporting to the public and do they serve any other purpose than that of marketing and political promotion?
As Bosnia's general elections draw closer, Milorad Milojević investigates the problems that continue to plague the country's democratic processes.