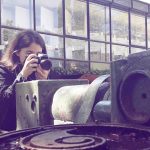 —

Sanela Tufekčić

—

Sanela is a Balkan Diskurs trained youth correspondent from Livno. She has two passions that are in perfect harmony: traveling and photography. Her dream is to travel the world, but to always return to her home country.
Both documentary and poetic, the new play, ''The Lullaby for Mladenka,'' takes crimes against Croatian civilians from the village of Grabovica in September 1993 as its subject. Members of the Army of the Republic of Bosnia and Herzegovina (ARBiH) killed 33 Croatian civilians, the oldest of whom was 87 years old and the youngest four. …
Project Ele Mostar was intended not only as a contribution to reconciliation in Mostar, but as an example of reconciliation to the whole country.  The project was launched in 2019 with the idea to bring Bosniak and Croat university students at Dzemal Bijedic University and the University of Mostar closer together by showcasing Spanish culture …
The foothills below Mount Cincar, not far from the town of Livno in southwestern Bosnia and Herzegovina (BiH), have been home to around 400 wild horses for nearly 50 years.