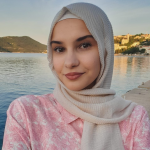 —

Sumeja Mehmedović

—

Sumeja Mehmedović is a trained Balkan Diskurs correspondent from Kalesija, Bosnia and Herzegovina. She completed her studies in journalism at the Faculty of Philosophy of the University of Tuzla. In the youth association "Trik" Kalesija, Sumeja works as a PR manager. She gained her journalistic experience as a correspondent in the online magazine Karike, where she mostly writes about topics that concern young people.
Young people, including young athletes, are increasingly leaving Bosnia and Herzegovina (BiH) as a result of inadequate conditions and a lack of support from the authorities. Among those who are determined to stay are volleyball players from the Bosna Club from Kalesija, who believe that volleyball has a future in this small BiH town.
Children's rights are human rights that are not prioritized in Bosnia and Herzegovina. A group of young people and children from all over the country has become actively involved in solving issues related to children's rights in BiH. The Platform for the Advancement of Children's Rights is very helpful, as it makes information in this field available. Through the Platform, they can talk to their peers and government representatives and advocate for solutions to various problems.