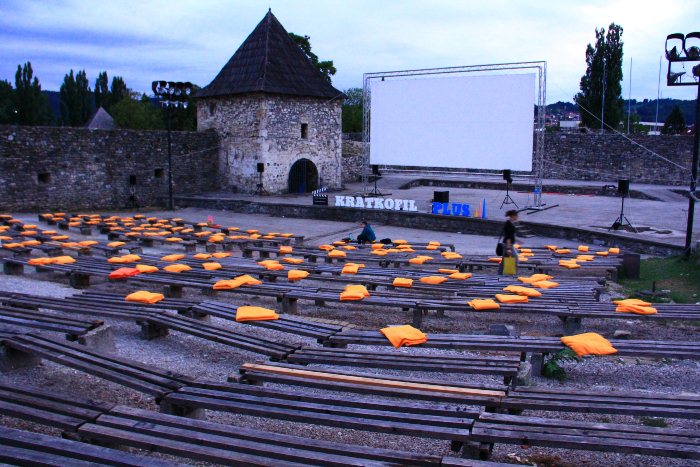 An important topic among cultural circles in Bosnia and Herzegovina has been the shutting down of the short film festival "Kratkofil Plus". The Banja Luka festival, which has successfully brought together numerous filmmakers and movie lovers for nine consecutive years, will no longer be held.
According to the festival's organizers, the reasons for the shutdown of the festival are the non-existence of a vision for cultural development, an almost complete absence of interest in the projects, the tendency towards the commercialization of cultural events, and the systematic reduction of logistical and financial support for Kratkofil Plus.
Drasko Gajic, a professor at the Academy of Fine Arts in Banja Luka who has participated in Kratkofil with his students since the festival first began, considers this a big loss for young people.
"It is never good when anything related to art and culture disappears or is shut down since there are already so few of such activities in this region. Both film lovers and filmmakers are losing a cultural event and a stage on which they can see works from around the world that are rarely shown outside of festivals," Gajic explains.
He adds that there need be only a moderate number of such events as Banja Luka is a small city, but those that already exist and that have an audience should be preserved and regularly maintained.
Professor Gajic does have the support of his students. According to Nadja Kostic, an acting student at the Banja Luka Academy of Fine Arts, shutting down Kratkofil has not only marked the end of a festival but also interrupts Banja Luka's citizens from learning about film.
"I feel that the residents of this city don't know enough about film and Kratkofil managed to attract a large number of young people each year who, as a result, became more and more interested in film. Unfortunately, it is a sad fact that a large number of festivals in this city are in the process of shutting down, which doesn't positively influence the cultural development of Banja Luka, and that development is necessary, if not essential," she says.
Kratkofil is one of the festivals that gave Bosnia's youth the chance to try their hand at creating short films that will actually be shown to an audience. One of those young people is Adnan Smajic from Banja Luka, who experienced great success at last year's festival, with his first short film entitled "I Am Adnan, and I Will Not Blow You Up".
As someone who was able to experience success during the Kratkofil festival, Smajic expressed his regret that others will not have the same opportunity to learn, create, and meet people from the world of European film. He is devastated that this year's summer in Banja Luka will go by without this beloved festival.
"New generations will no longer get to experience Kastel's [Banja Luka's ancient fortress that serves as the venue for the Kratkofil festival] most pleasant corner, called Secret Garden, or the vortex of emotions that comes with being part of the audience that gets to view the films. Nor will they have the chance to enjoy such short films anytime soon," says Smajic.
According to Smajic, both the government and local community are responsible for this outcome.
"Cultural events in our region have been on life support for a while now, forced to struggle for survival with the last ounce of their strength, while the government keeps shutting them down one by one. On the other hand, it's not exactly fair to place the blame solely on the government, as the deterioration of culture is also a reflection of the society. We, as citizens, are also responsible to a certain degree. Why don't they shut down the bullfights or the Popularity Oscars [a media award specific to the region of former Yugoslavia]? Because people in this region prefer to watch two bulls fight in 40°C above watching a documentary. As long as that is the case, outcomes like these are to be expected," Smajic explains.
Although he doesn't want to be pessimistic, Smajic says that the survival of culture takes more than just the work of a few individuals who, after giving their all for years, end up listening to complaints about overpriced beer.
"Banja Luka is already losing its green spaces, parks, recreational areas, and, if its culture is also taken away, all that will remain is a city without a soul," Smajic concludes.