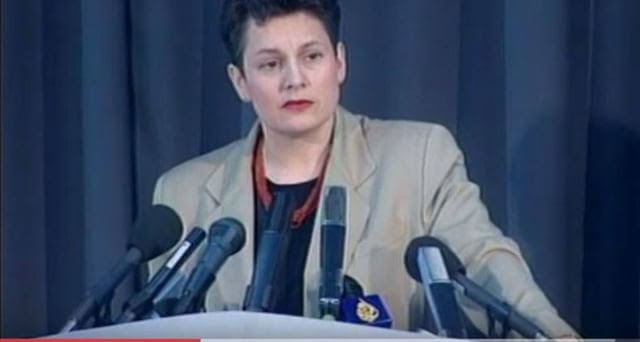 "Are you glad to be back in Sarajevo?" I ask. "Oh yeah!" she exclaims, lighting up with excitement.
The 22nd of November 2017 marks an extraordinary day for Bosnia and Herzegovina: the International Criminal Tribunal for the Former Yugoslavia (ICTY) finds Ratko Mladić guilty on 10 of 11 charges for crimes committed during the armed conflict in Bosnia and Herzegovina from 1992-1995.
It is on this momentous day that I am also scheduled to interview Tanya Domi, an accomplished and well-respected Adjunct Professor of International and Public Affairs at Columbia University and faculty affiliate of the Harriman Institute in New York. As I push open the doors to London Café, a warm rush of air, a friendly face, and to my surprise, a relatively empty room greets me. This is my first visit to the café; it's cozy, and the large windowpanes are charming. I find a seat in the back by the radiator and take out the gadgets I need for the interview. I check my phone and load Reuters and Balkan Insight in an effort to locate a live stream of the Mladić verdict.
My phone begins buzzing frantically, and when I look up at my laptop, there it is: "The Guardian: former Bosnian Serb army commander Ratko Mladić sentenced to life imprisonment convicted of genocide, war crimes and crimes against humanity". His convictions include 'murder, terror and unlawful attacks on civilians in Sarajevo; and for genocide and persecution, extermination, murder, and the inhumane act of forcible transfer in the area of Srebrenica in 1995'. This signifies the last trial judgment delivered by the ICTY before the completion of its mandate on 31 December 2017.
Tanya soon arrives and, after finishing her statement on the verdict for Reuters, our interview begins. "Are you glad to be back in Sarajevo?" I ask. "Oh yeah!" she exclaims, lighting up with excitement. At first, she continues in Bosnian, but then becomes aware of my humble linguistic skills and kindly translates for me, "My heart is full for Sarajevo."
Originally from Indiana, Domi informs me that she is a third generation Albanian-American, whose grandmother immigrated to the United States in 1928. Although she has always had an intrinsic "regional connection", it was after spending 15 years in the United States Army when her interest in the Balkans officially began. Before developing her passion for all things Balkan, Tanya studied political science and journalism at Central Michigan University and later obtained a Master of Arts in Human Rights at Columbia University. She asserts a particular interest in the areas of transitional justice, post-conflict and democratic development, and gender and sexual identity issues. Following her Army career, she has been an advocate for LGBTQI rights and related matters and has been widely published on numerous media platforms such as Atlantic Magazine, the BBC, and CNN International.
In 1991, Domi began work as a defense policy analyst on Capitol Hill for the late Congressman Frank McCloskey, who became the "conscience" of the U.S. House of Representatives during the Bosnian war. From her position as McCloskey's defense policy analyst, she helped organize his first trip to Zagreb, Croatia after the start of the war in 1991.
After pausing to take a sip of tea, she explains that her first trip to Bosnia in 1996 came, "as an outgrowth of [her] work on the Hill, which directly followed the signing of the Dayton Peace Accords". It was also in 1996, while working on the Clinton Campaign, that she received a call from the State Department with a job offer and an urgent request for her to travel to Vienna. "I knew we were going to win [the campaign]," she says reassuringly. "So, I thought about it overnight […] and it was I either go now or risk missing the experience of my life. And that was that. I called the State Department back first thing the next morning to accept the mission".
She was seconded by the State Department to work for the Organization for Security and Cooperation in Europe (OSCE) as a human rights officer and soon found herself in Bosnia just one month before the September 1996 elections were held. Her initial assignment was to be posted to Sokolac, a town in the heart of Bosnia's Republika Srpska entity, for the elections. Although she had already worked in a number of countries including the Philippines, Haiti, Gambia, and Nepal, she shares with me that, "The move was really quite a shock and I was not fully prepared for what was to come. I couldn't believe I had ended up in Sokolac, which was, at that time, a center of virulent hatred for Bosnian Muslims. It was personally quite difficult to be assigned there during that period."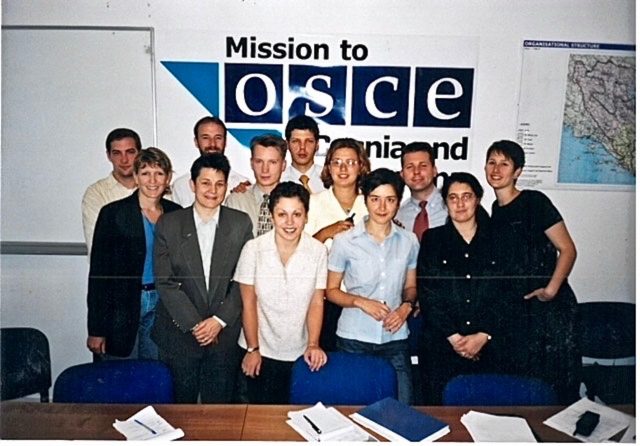 During her four years in Bosnia, Domi undertook a variety of responsibilities and positions aimed at improving the now post-war country. She served as Executive Assistant to Ambassador Robert Frowick (OSCE Head of Mission to Bosnia and Herzegovina), then, during the 1998 general elections, as chair of the Media Experts Commission. Domi later went on to serve as Counselor to Ambassador Robert Barry (the subsequent OSCE Head of Mission after Frowick) and eventually transitioned to OSCE Spokesperson.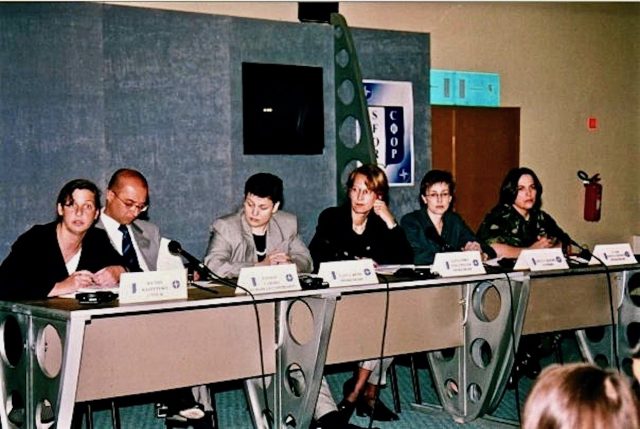 Much of Domi's work in Bosnia was centered around the implementation of the Dayton Peace Accords, and she now reflects: "[The Dayton Peace Agreement] was an imperfect agreement to end a really horrific war. […] it created unintended consequences detrimental to building a sustainable democracy. The division of everything based on ethnicity solidified the separation that remains egregiously detrimental to Bosnia to this day."
As the interview progresses, Tanya explains how Bosnia has been buffeted by various internal and external forces in the years following the war, including the Bush Administration's detrimental closing of the State Department's Dayton office immediately upon entering office; the NATO campaign in Kosovo, 9/11, and the failures of the international community operating within the Office of the High Representative (OHR) after 2006. She comments on the present rise of a "belligerent Russia" in the region, which contributes to a rise in illiberalism across Europe and plays a considerable role in the corrosion of Euro-Atlantic institutions, indirectly affecting Bosnia. She adds that the election of Donald Trump in the United States has also proven to have a negative effect on the US' relationship with Europe, in general.
"A rather bleak, but sadly realistic portrait of the state of international affairs," as she puts it. "There is a geopolitical fight within the region and, unfortunately, Bosnia is just there […], there really is no appetite to politically or diplomatically re-engage," she discloses.
Although Tanya does not currently hold a permanent position in Bosnia, she remains actively involved in work that keeps her ties to the country strong and the wealth of knowledge gained throughout her career greatly contributes to her success as an educator. In 2008, she was appointed as an Adjunct Professor of International and Public Affairs at Columbia University's School of International and Public Affairs, where she teaches International Relations and Human Rights on behalf of the Harriman Institute Domi speaks highly of her students, noting that some are employed in the region, have even studied the Bosnian language, been exposed to the culture, or have visited various parts of the Balkans, including Kosovo.
When I ask about her teaching style she says, "We should tell the truth. I believe that the efforts to advance peace education and human rights, as well as telling the truth about what happened, is really important." Unsurprisingly, Domi is not a conventional professor. She shares with me her use of a variety of teaching methods and approaches, which includes assigning court transcript readings and scholarly articles to her students. She also stresses her unique preference for the use of film and digital media in the classroom, which provides a more impactful learning experience than lectures alone can provide.
"I can tell people about mass rape but, if you hear the testimonies and the experiences of those survivors, it is much more powerful than what I could say in a classroom." Last year, she screened PBS' "I Came to Testify" from the "Women, War and Peace" documentary series and invited Velma Šarić, the film's executive field producer, to attend the class. "When I bring somebody like Velma into my class, it really helps people understand what took place in ways I cannot convey," she says. "People see the images and are better able to talk about what happened," she adds, referring to the acclaimed American photojournalist Ron Haviv and the infamous photograph he took during the Bosnian War, published in TIME in 1992, of a Serb soldier kicking the dead body of Bosniak woman.
Outside of her classroom, Domi is heavily engaged in international human rights efforts and frequently collaborates with people and organizations, especially those from the Balkans, working in fields such as post-conflict development, peace education, and transitional justice. It is through this continued engagement that she was able to develop a special friendship with Velma Šarić, Co-Founder and President of the Sarajevo-based Post-Conflict Research Center (PCRC). They initially connected during a conference dedicated to the topic of sexual violence in conflict where Šarić spoke on the topic of sex-related war crimes and potential avenues for reconciliation. They again linked up in Fall 2016 after Velma received a fellowship as part of Columbia University's Alliance for Historical Dialogue & Accountability Program (AHDA). Shortly thereafter, PCRC eagerly extended Tanya the invitation to become President of its Advisory Board, a responsibility she says "[she] will do for Bosnia, which needs our help again".
Taking the opportunity to order another tea, she tells me that, as newly appointed Advisory Board President, she hopes to help PCRC become a hub where regional and international scholars can come together to collaborate on issues such as memorialization and history. To this, she highlights PCRC's contributions to memorialization thus far, as well as its work to "push back against genocide denial". "The PCRC is really, really, outstanding because it was an indigenous idea created by people from here, not from the outsiders, or internationally conceived of." Thus far, her journey with PCRC has included several presentations during the 2017 WARM Festival, a joint presentation with Velma at Yale University related to PCRC's work on transitional justice and the prevention of genocide, and the organization of a special screening of "I Came to Testify" at Columbia's Harriman Institute, which was followed by a discussion on sexual violence and included important panelists such as Nihal Saad of the United Nations Alliance of Civilizations (UNAOC) and filmmakers Pamela Hogan and Kirsten Johnson.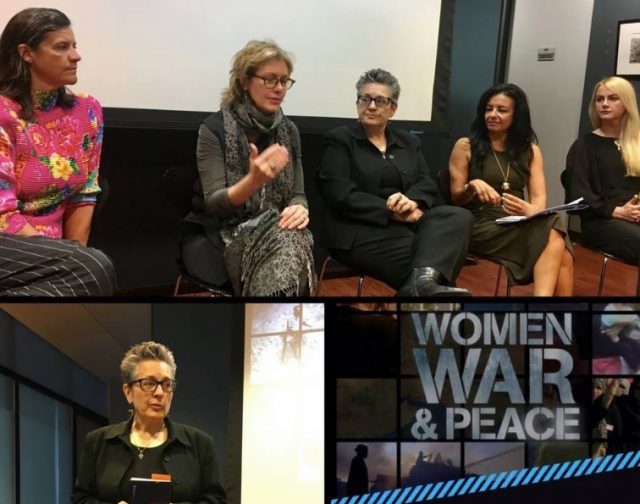 "What is it like working with PCRC's founders, Velma and Leslie?" I inquire. "Velma and Leslie are exceptional leaders!" she proclaims, citing several examples of PCRC's work with women and with the Roma community, and on the powerful Ordinary Heroes project. She cites PCRC's multimedia platform Balkan Diskurs and its contribution to "filling a huge gap in regional reporting". Tanya also highlights PCRC's invaluable work to spearhead youth engagement and educational programming in what she calls a "progressive movement across the Balkans to combat ethnically segregated educational institutions".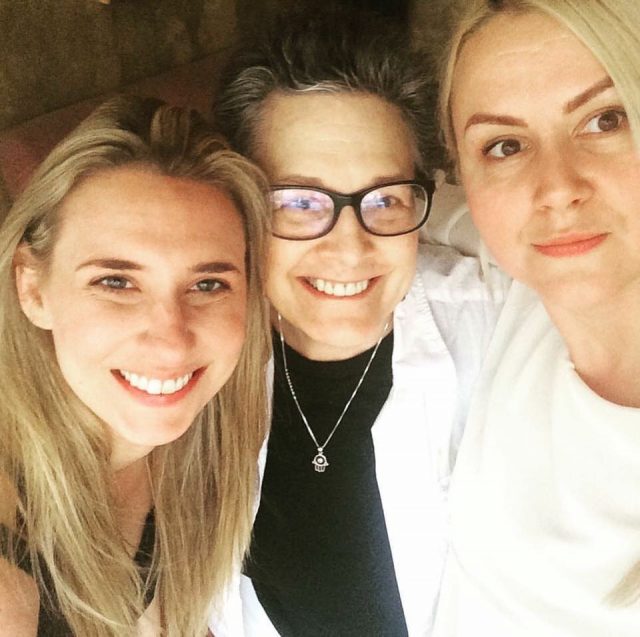 It is easy to see Tanya's enthusiasm for the inspirational NGO and its founders. And, when I ask if her teachings at Columbia and the mission of PCRC intersect, she doesn't hesitate to dive right back into her thoughts on filmography: "The world has become so visual and we learn so much more now from visual material, so my work in the classroom absolutely translates and intersects with PCRC's work. Through film and storytelling, both of which are really powerful, there is an intersection."
We have now been in London Café for almost two hours and I hardly notice that the place has filled with people who have gathered for the late afternoon coffee rush. The smoky room is trying to engulf us, but I could stay there talking to Tanya for hours more about her career, her perspectives on the future of Bosnia on and the impact the Mladić verdict will have on this country and its citizens. But I mustn't keep her much longer because she's on a mission to do as much as she can for PCRC before returning home.
"It was a pleasure," she says with a smile. "PCRC is a heart-driven social contract for me. It's my first official affiliation with the Bosnians in 17 years." I thank her for taking the time to meet with me on a day like today and ask one final question as we stand to leave: "So, what's next?" She laughs. "Well, I am heading back to Columbia to keep teaching. I'll be back, I'll keep working with Velma and Leslie, and do my thing, right?"