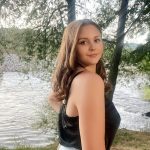 —

Almedina Alihodžić

—

Almedina is a Balkan Diskurs correspondent from Breza. She is a student at the Faculty of Transport and Communications at the University of Sarajevo in the Department of Communication and Information Technology. She is also a volunteer in the Red Cross and is interested in peace and justice.
To spread awareness and empathy toward children who are struggling with autism, Ivona Grbešić, from Opuzen with a Dubrovnik address, started the blog "No Ordinary Mom." There, she describes everyday life with her children, of whom two boys are from autism spectrum disorder. 
Education professionals, the non-governmental sector, and human rights activists agree that the fight against all forms of violence must be a part of everyday life, especially in communication with children and young people. Here, parents play an important role, in addition to educational institutions.
The three of them show strength, desire, and great business initiative. Erna Šošević, founder and CEO of Bizbook.ba, Samra Bešlija-Ašćerić, Doctor of Dental Medicine, and Ajla Aljić, founder of the Doolzee brand, are successful business owners who stand as a prime example of women's entrepreneurship in Bosnia and Herzegovina.