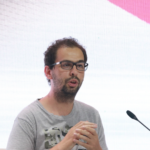 —

Amir Barleci

—

Amir Barleci is a trained Balkan Diskurs correspondent from Sarajevo. He holds an MA in Psychological Sciences. He has been a media and political activist for many years. He participated in numerous seminars, conferences and projects. He is the founder of the alumni clubs at the non-governmental organizations Boris Divković Foundation and the Helsinki Parliament of the citizens of Banja Luka, for which he wrote a scientific paper on the topic of gender equality in the media space. He describes himself as ambitious, reliable and open to new experiences.
The Plavi Telefon [Blue Telephone] counseling helpline was established by the Nova Generacija association primarily to provide psychological support to children and young people in Bosnia and Herzegovina. Over the course of a decade, they have received approximately 60,000 calls, most of which have come from children and teenagers between the ages of ten and 18
Fedja Zahirovich, a talented Bosnian-Herzegovinian performer, has been involved in acting since his early childhood and pursuing this passion professionally for a decade. He completed his studies in screen acting at the Bow Street Academy - the National Screen Acting School of Ireland, where he had the opportunity to learn from distinguished Hollywood professionals such as Gerry Grennell as well as Oscar and Golden Globe nominated directors and writers. In addition to acting, Fedja's interests include writing poetry and screenplays and studying psychology, which has fascinated him for years.