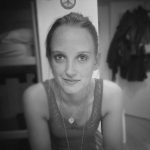 —

Anna Idzinga

—

Anna Idzinga is a former intern of the Post-conflict Research Center in Sarajevo. She holds a BSc in Cutural Anthropology and Development Sociology and is currently enrolled in a LLM in Public International Law at the University of Amsterdam. She is interested in human rights and hopes to continue working for organizations that care for human rights.
Dutch media coverage of the Bosnian War partly explains why Dutch politicians and the general public are conflicted about the role played by Dutchbats during the war.
Anna Idzinga and Milou Liebregts present the results of a recent high school survey they conducted in the Netherlands, which highlighted just how little young people there know about the Srebrenica genocide.
Anna Idzigna explores the history and everyday work of Human Rights Watch, an international NGO that conducts research and advocacy on human rights.