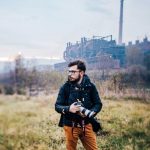 —

Armin Durgut

—

Armin is a Bosnian photojournalist and Balkan Diskurs trained correspondent from Zenica. He started working as a photojournalist for the Patria news agency in 2014, and is currently working for "PIXSELL" Photo & Video Agency. His works have been published in media outlets such as Forbes, NY Post, Wall Street Journal, The Sun, The Sunday Times, Daily Mail, National Geographic, and Bild, among others. (Profile photo: Haris Čaklić)
Daut Tihic, a former soldier of the Army of the Republic of Bosnia and Herzegovina, and Dane Vasic, a former soldier of the Republika Srpska Army, met on the Skelani frontlines near Srebrenica in the fall of 1992. Daut shot Dane and, for 14 years, lived with the belief that he had killed him. That was until they met again and under completely different circumstances.
In Sarajevo's Baščaršija (Old Town), some craft shops offer tourists unusual souvenirs – items from the war that could have served as reminders of a bloody and turbulent past in Bosnia and Herzegovina but have instead been transformed into something beautiful.
Monsieur Chat, also known as the yellow cat in Sarajevo, is the work of the French-Swiss artist Thoma Vuille. At first, the cat's creator was unknown, but he was caught painting the cat and soon became famous for his work.