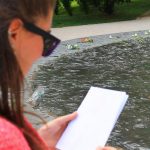 —

Azra Berbić

—

Azra is a trained Balkan Diskurs correspondent from Kakanj. She is very passionate about human rights, peace building, and environmental justice. She has eight years of experience in law, and six years of experience in journalism and project management. Azra gained her BA of Law degree at University of Zenica, where she was a very active leader in student unions. Throughout the years, she has been advocating for gender equality, social and environmental justice, and protection of children and women who are victims of domestic, sexual, and psychological violence.
Love for A from Sarajevo and D from Čačak means respect. For two years now, these two twenty-three-year-olds have been building their love story on respect, overcoming all obstacles and prejudices.
A married couple from Sarajevo, Zlatica (55) and Muhamed (58) Kljuno are celebrating 28 years of happy marriage this year. Their life has been filled with love for each other and their two children. They believe that their different religions have brought a lot of prosperity and happiness into their life. They say that the key to their successful marriage is that their differences complement each other perfectly – what one of them lacks the other one has.
Sister Blanka and Mualima Šejla traveled on quite different paths through life, but those two paths left them with the same desires and motivations. Sister Blanka's journey began in flat Slavonian County. Mualima Šejla, along with her mother and two sisters were forced out of Bratunac, a town in eastern Bosnia near Srebrenica, during the war. Eventually, these paths came together in Livno.