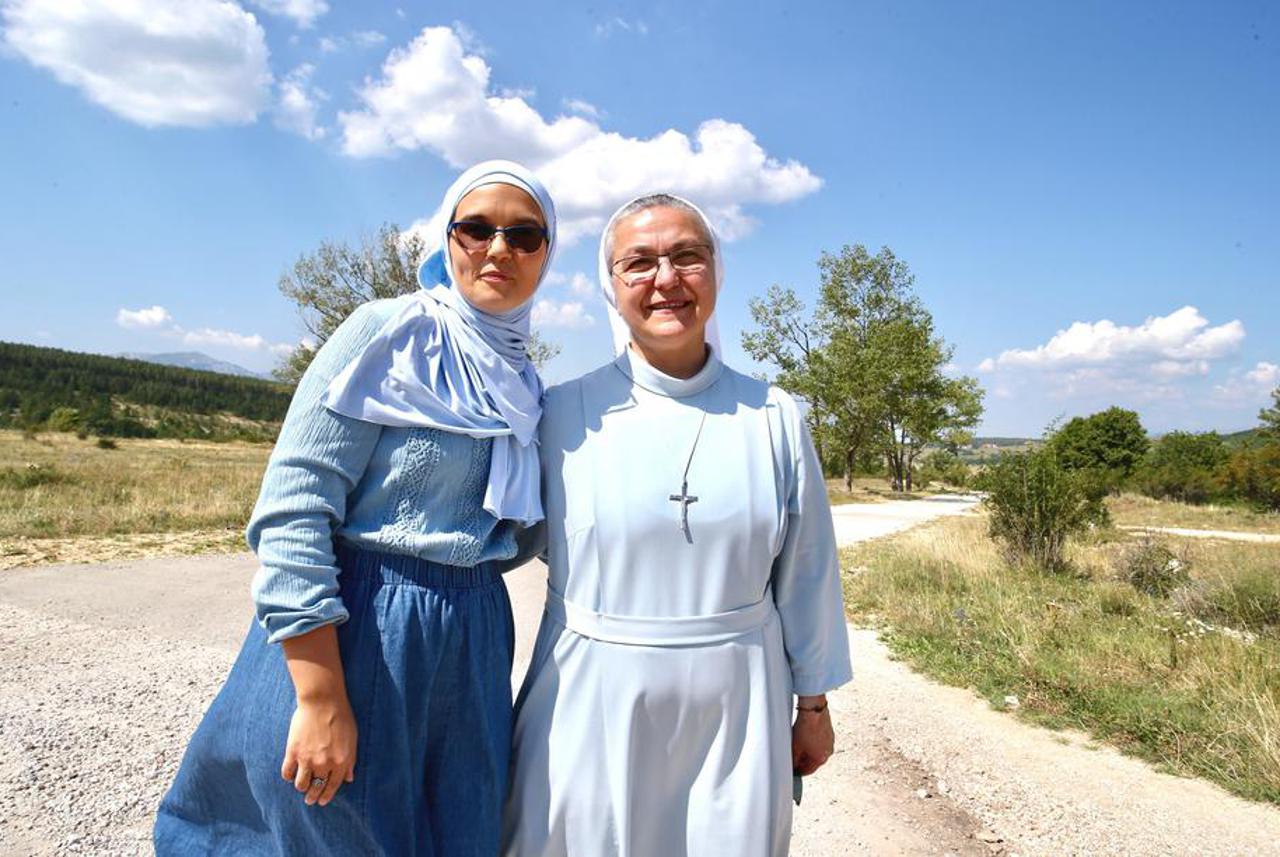 Sister Blanka and Mualima Šejla traveled on quite different paths through life, but those two paths left them with the same desires and motivations. Sister Blanka's journey began in flat Slavonian County. Mualima Šejla, along with her mother and two sisters were forced out of Bratunac, a town in eastern Bosnia near Srebrenica, during the war. Eventually, these paths came together in Livno.
"I was born in a village near Vinkovci," said Sister Blanka, 53. "I wanted to come to Bosnia when I decided to become a nun. My parents were born here and in 1962 they moved to Slavonia. So it was my love for the Bosnian soul, regardless of religion and nation that brought me."
As a child, Mualima[1] Šejla (now 32) lost her father. After the war forced her remaining family to flee, she ended up in Livno as a newlywed. It was in her new town that she began to take an active role in her community.
From selling cookies to a symbol of beneficence
As soon as they arrived in Livno, both Blanka and Šejla started organizing activities in the community for both young and old. Šejla recalls receiving an invitation to participate in a charity event from the Appreciation Coalition, a group of non-governmental organizations active in the area. There was going to be a bake sale to raise money for two sisters, both suffering from Multiple Sclerosis. ''Of course I agreed to it," said Šejla, "my female members and I made a bunch of cakes and we all spent one day in the square."
On that day, "Blanka came with a group of young people, consisting of people primarily involved in humanitarian work," said Šejla. "She is such a cheerful spirit–interesting, funny and communicative. Everyone was relaxed and they were joking around, we took pictures of ourselves playing basketball and then one of the photos of the two of us surfaced on the media. If we had not met then, perhaps nothing would have come out of that cooperation," she continued.
Šejla was, and is, an active worker in the Majlis of the Islamic Community, focusing on improving the lives of women in the city. The organization's activity in this area has yielded many projects they can be proud of.
Soon after the bake sale, Blanka came to the Majlis office and asked for Šejla's phone number. ''She then invited me to do a humanitarian action to get a washing machine for a family with four young children. I think that project with the washing machine was the trigger for us to have a successful collaboration from then until today,'' said Šejla.
The two are currently assisting two families, and there are more that call them when help is needed.
They've also continued to provide assistance to people with disabilities.
The citizens of Livno always respond to any action that the Mualima Šejla and Sister Blanka call for. Although they have not turned to the city authorities for help, the authorities of Canton Livno openly support what they are doing. ''People look favorably on our work in the community, and I can say that everything we are doing comes from a deep conviction that we are doing it for the benefit of everyone. We are also doing it because of our religious commitment," Sister Blanka pointed out.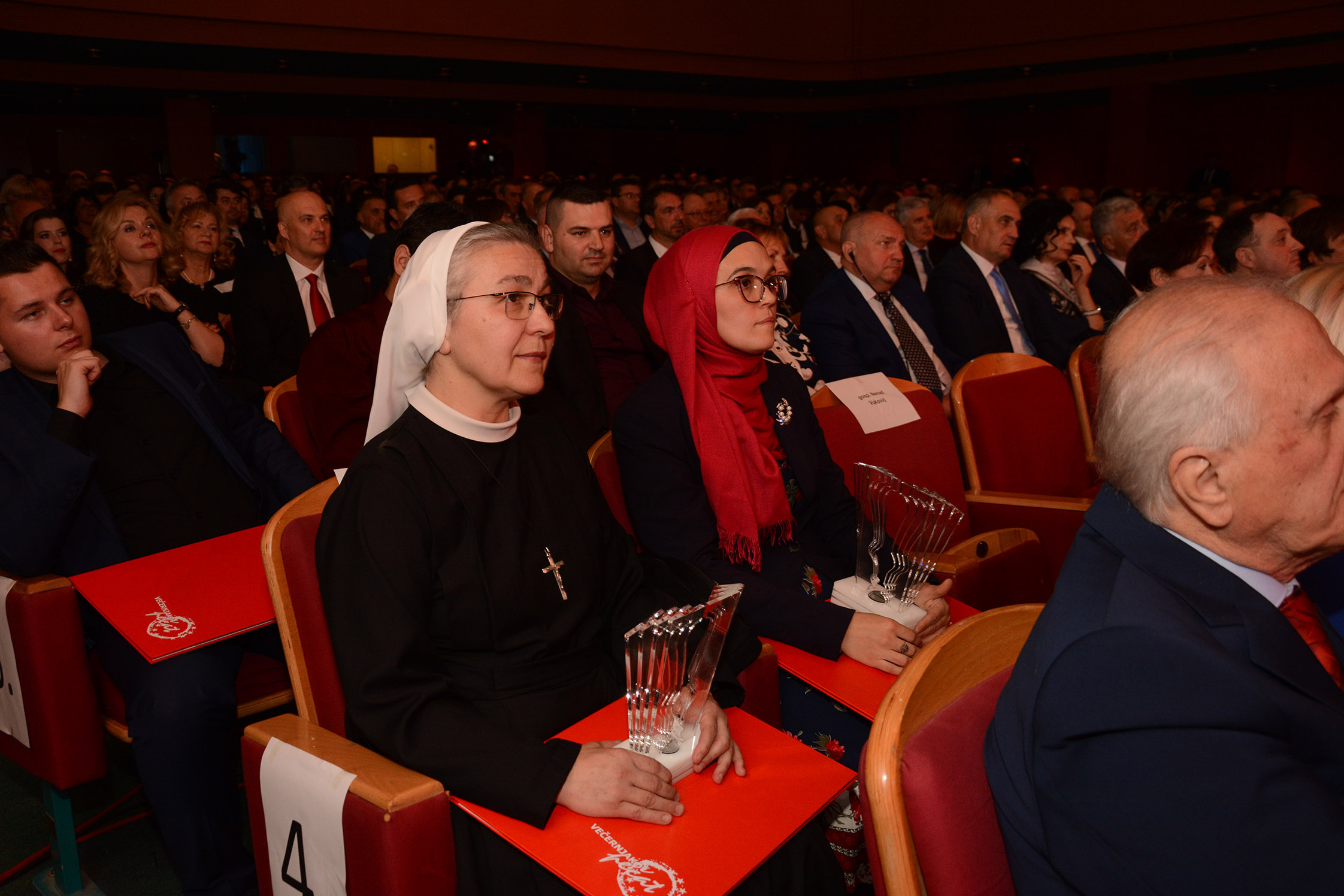 A story that the entire Bosnian society needs
Sister Blanka and Mualima Šejla's story is one that should please everyone in Bosnian society; it's a story about doing good deeds. Šejla thinks ''we need stories like these to remind us that we all have that shred of goodness in us. Maybe we sometimes suppress it and forget it exists, but sometimes we need to push it, in the same way, that we exercise and push our bodies."
Sister Blanka, for her part, added that she doesn't like the term 'humanitarian,' because, for her, every human being has some part of them that's inherently humane. ''Every person has something inside of them that, together with their religious strength and love for God, makes them a humanitarian," she said. "My mission is to first and foremost give something back to the soul and with God's help I can do so.''
Šejla and Blanka often wonder where their empathy and motivation to help people in need comes from. They've concluded that it has something to do with both of them losing their dads very early in their lives and dealing with difficult paths through life.
''My mother was left alone with three daughters," explained Šejla, "so there is no difficult situation that I cannot recognize: from poverty to not having a sandwich when you are a kid at school. All this taught me how to fight for myself. I feel that all the support I, as a child, received from others should be given back to those who need my help and support."
Blanka attributed a quote to St. Vinko, saying, "the poorer, the more unpleasant, dirtier and less kind a poor person is, if we look deep enough we can recognize the face of God on the other side," an insight which extends a thought of the patron saint of charity.
"Without the gift of God, without understanding and love, there is no action. I often pray to the Lord to give me the grace to know what He wants me to do and to give me the strength to do it. It is necessary to recognize the need and to act upon it, and the most important thing is to persevere in doing good deeds," concluded Sister Blanka.
[1] Mualima – a religous teacher in Islam, female