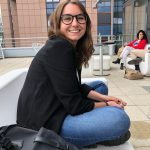 —

Berta López Domènech

—

Berta holds a master's degree in Advanced Journalism from the Blanquerna – Ramon Llull University of Barcelona and a bachelor's degree in International Relations with specialisms in EU affairs and foreign policy from the same university. Due to her interest in the Western Balkan's history and politics she also completed a diploma in New Scenarios in the Western Balkans and took part in a volunteering project in Slavonija. Her desire to better understand the post-war Bosnian society, as well as its political dynamics and future prospects brought her to join the PCRC in Sarajevo. Before that, she worked in the field of EU affairs and communications in Brussels and as a journalist in Barcelona.
The exhibition "Scarves of Remembrance" was opened at the Srebrenica Memorial Center on July 9th, as part of the commemoration of the 27th anniversary of the genocide in Srebrenica.
Around 1,500 people marched through the streets of Sarajevo on the 25th of June under the slogan "Family Gathering" in the third-ever pride march in Bosnia and Herzegovina to protest discrimination and injustice against the LGBTI community.