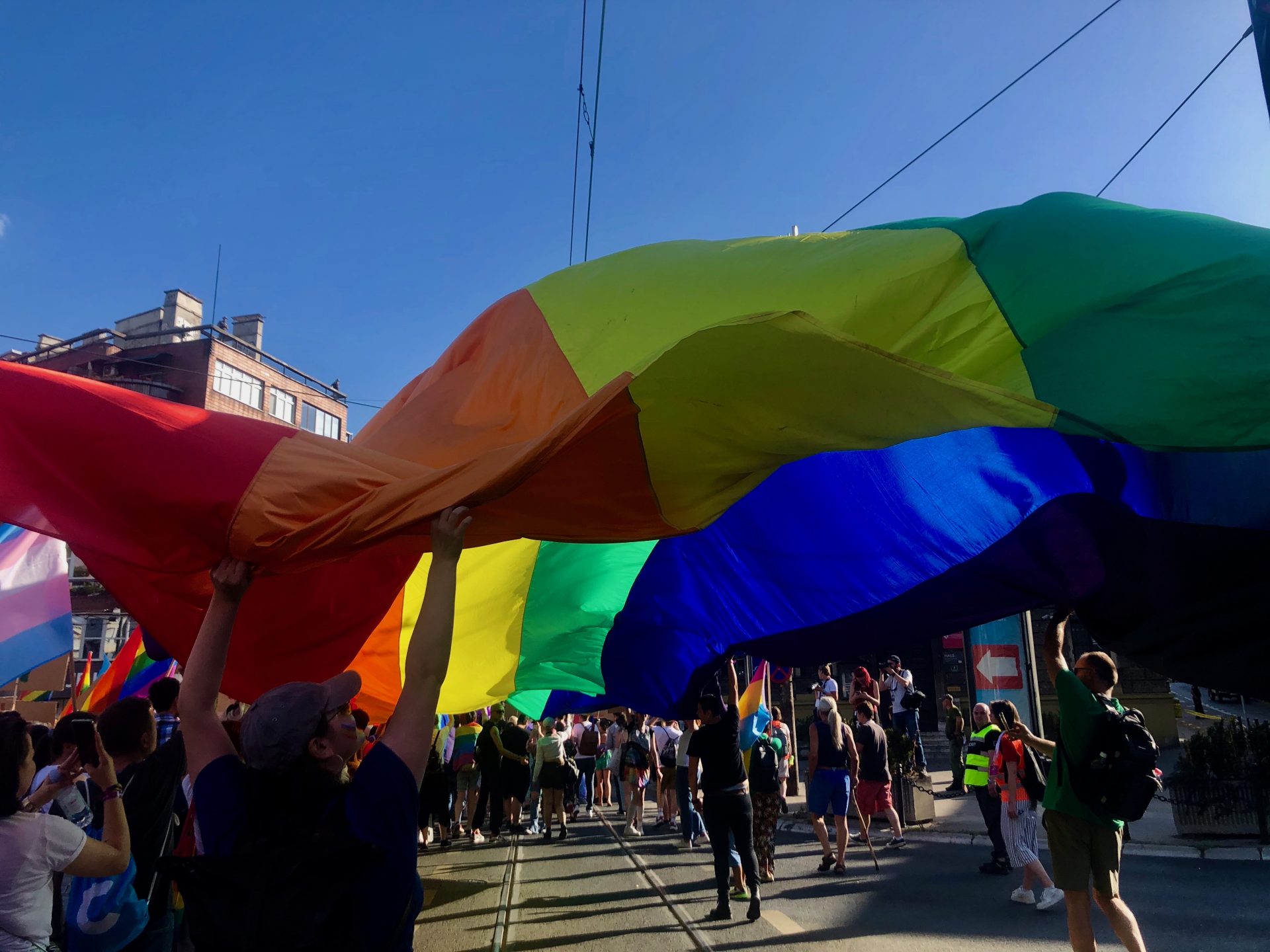 Around 1,500 people marched through the streets of Sarajevo on the 25th of June under the slogan "Family Gathering" in the third-ever pride march in Bosnia and Herzegovina to protest discrimination and injustice against the LGBTI community.
With this year's slogan, the organizers aim to shed light on the fact that same-sex partners families are a reality in Bosnia and Hercegovina and "to create a space where we are all a family," explains Banja Luka resident Irma Besirević, one of the organizers of the march. 
In a city of over 300,000 inhabitants, there isn't a specific and openly gay bar where the LGBTI community can gather and express themselves freely. It's still very rare to see same-sex couples holding hands in the streets of Sarajevo, showing affection in a cafe, or kissing in a nightclub.
"Most people from the LGBTI community still feel that the city is not a safe place for them. Showing affection still draws attention, and there have been cases of violence," notes Darko Pandurević, Advocacy and Program Manager at the Sarajevo Open Center (SOC), an NGO committed to defending and advancing LGBTI and women's rights in Bosnia and Herzegovina.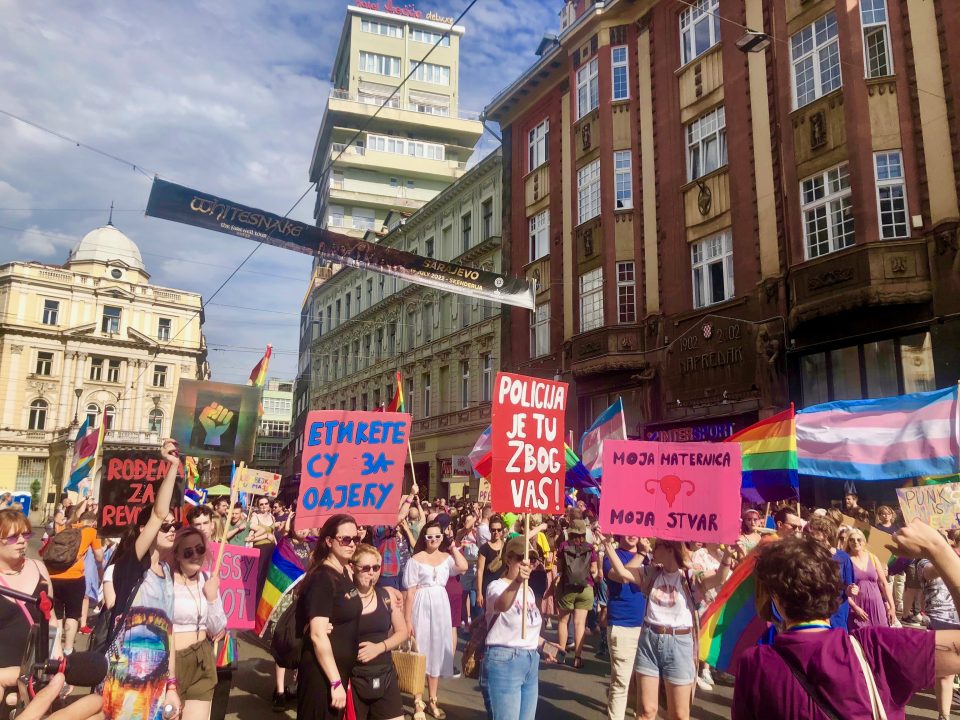 The necessity to create safe spaces for the LGBTI community became even more evident after the lockdown. "The pandemic was very tough for those people who had to confine themselves with relatives who didn't accept their identities," says Irma. 
That has never been a problem personally for Irma, who was born in Sweden and moved back to Bosnia, where both her parents come from. Irma's family always accepted her identity and sexual orientation and for her, coming out was a very smooth process. "My mum was always asking a lot, and I decided to come out to her when I started my relationship," says Irma, who remembers her mother being very happy.
However, not everyone in Bosnia has the same luck. The 24-years-old acknowledges that while she is "a privileged one," most of her friends had a hard time coming out. In fact, an opinion poll carried out by NDI in 2015 found that 44% of parents would try to "cure" their children if they found out they were LGBTI.
Change is coming with newer generations, due in part to social media. "Internet culture has really opened up a safe space for everyone. We have found LGBTI references online that have helped us understand our own identities," explains Irma. However, most of the LGBTI content in social media is anchored in English. Local activism is thus crucial to bring these messages onto the streets. "It is important to have content in our language and a pride march in our country so that people can have local LGBTI references and see that homosexuality is also a reality in Bosnia," she adds.
The pride march: a milestone for the LGBTI fight
In 2008, the Bosnian capital hosted the Queer Sarajevo Festival, which was the first public coming out of LGBTI people in the country. However, it ended up being canceled on just its third day, after dozens of anti-LGBTI protesters injured eight people. Six years later, in 2014, history repeated itself when around ten people broke into the International Queer Film Festival Merlinka and injured three participants.
In 2019, Bosnia and Herzegovina held its first-ever pride march. This event was the result of almost two decades of queer activism and it made BiH the last of the former Yugoslav countries to host a pride celebration. It was also an attempt to bring the country together: "Unlike in other major cities, the march is not named after the city, but the country. We are trying to overcome the country's divisions and to move forward," states Irma.
The parade was a serious milestone for the LGBTI community in BiH, especially in light of the 2008 and 2014 incidents. "The march has given us visibility and opened up the possibility of not having to leave the country as a young person who is gay," adds Irma. The way mainstream media approaches the topic has also helped to normalize it.
Same-sex partnerships are not yet legal in Bosnia. In 2020, the first attempts to legalize it were made in the Federation, one of the two entities comprising BiH, but the process is currently stagnated. "The legalization of same-sex partnership, alongside with the strengthening of the right to freedom of assembly and the recognition of the rights of transexual and intersex people, are our main short-term goals", states Darko Pandurević.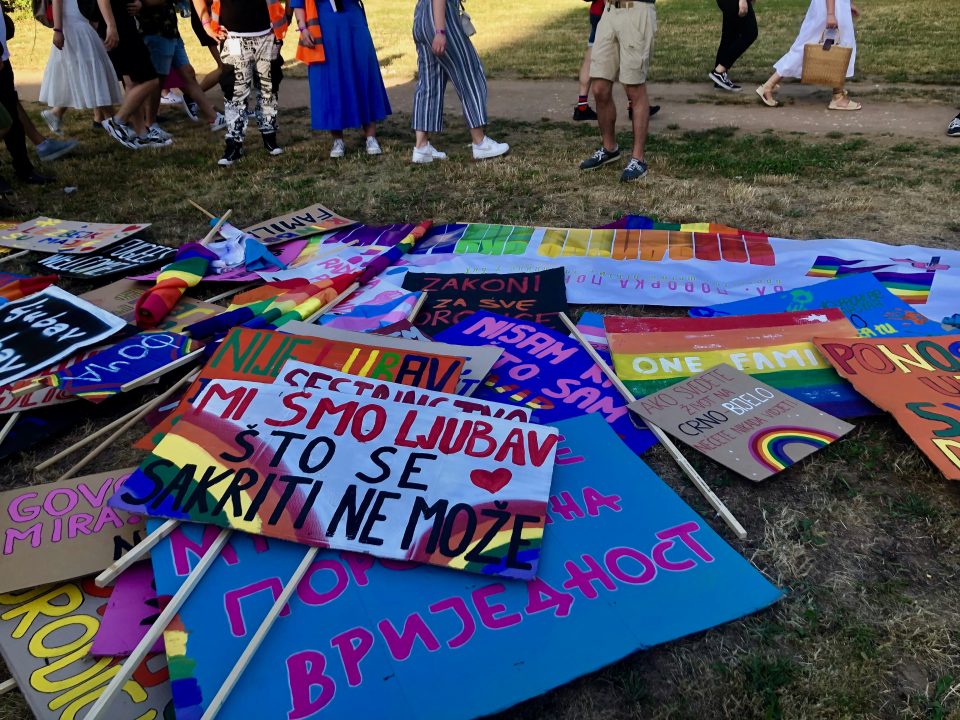 Some progress has been made on the judicial front. Last April, 13 years after the adoption of the Anti-Discrimination Law in Bosnia and Herzegovina, a judgment based on this law was passed related to discrimination on the basis of sexual orientation and gender identity. Furthermore, the members of the judiciary have become more accepting towards LGBTI people: "For several years, we've been working with prosecutors, judges, and police officers, training them and making them more sensitive towards these topics," highlights the Advocacy and Program Manager of the Sarajevo Open Center.
A wave of homophobia spreading through Europe
According to the ILGA-Europe's Annual Review of the Human Rights Situation of LGBTI People, 2021 saw a severe rise in anti-LGBTI rhetoric from politicians and other leaders across the continent, namely in Hungary and Poland. This trend has fueled a wave of violence against the LGBTI community, with hate crimes reported in every European country. 
These homophobic trends are already having an impact in Bosnia and Herzegovina. "There is always the spillover effect with everything that is going on in the world. For these right-wing conservative movements, political opposition to the rights of LGBTI citizens are one of their main pillars, and in Bosnia, some political figures that never talked about LGBTI rights before are now also appropriating this discourse," warns Pandurević.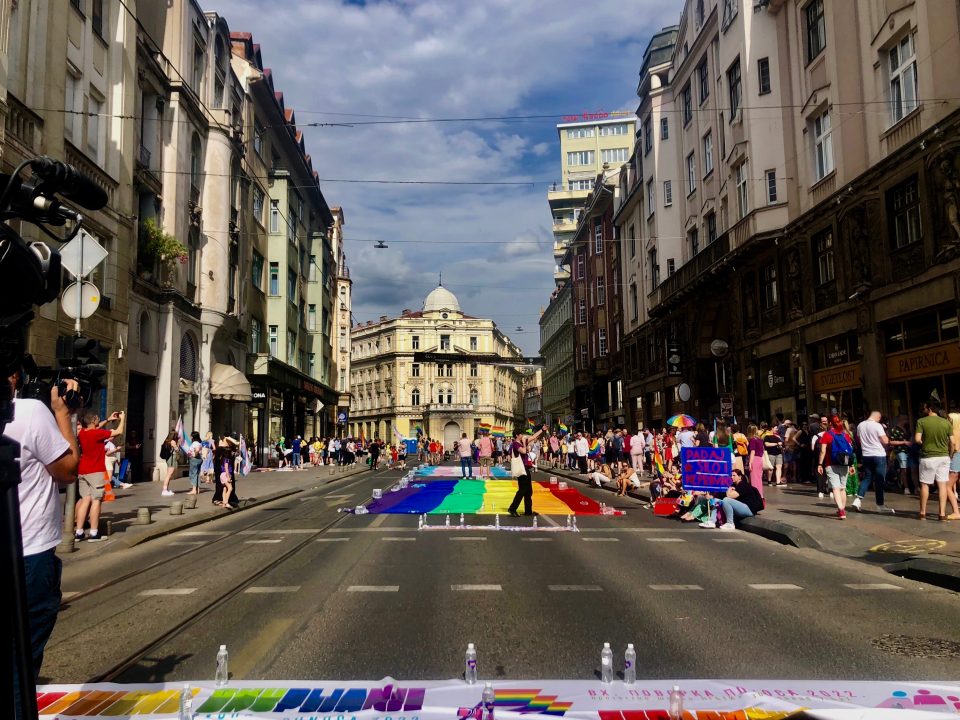 Last year, the Serb member of the BiH Presidency, Milorad Dodik, took part in the Budapest Demographic Summit, an event that brings together populists, nationalists, and ultra-conservative leaders from Europe and abroad to "discuss the main issues affecting families." There, alongside anti-immigration, islamophobic, and illiberal messages, Dodik condemned what he called "the ideology imposed by liberal states." "How can it be incorrect to say that a woman is a mother, and a man is a father?" Dodik asked rhetorically in front of an audience that also included the Slovenian, Czech, and Serbian Presidents. "I can't comprehend this logic. I accept everyone who is different, but they want to impose their own values on me, and I'm running away from it. You shouldn't offend me," he added.
At this moment, public attention is focused on the campaign for the upcoming general elections scheduled for October 2022. "In an election year, everything is a political battlefield and can be used to score political points," laments Darko. In Sarajevo Canton, the opposition is using the fact that the cantonal government allocated money for the funding of security measures for the pride march as a political tool. They argue that under previous cantonal administrations, a march of this kind never took place.
Despite the opposition of some sectors of society, the LGBTI community took to the streets of Sarajevo again to fight for their rights, visibility, and acceptance. The third-ever pride march in Bosnia Herzegovina ended peacefully under the tight security measures taken by the Sarajevo Canton government and the city police.