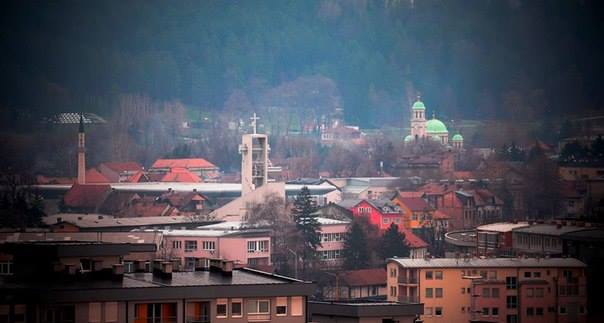 Tuzla, an example of multiculturalism in Bosnia-Herzegovina, does not experience issues related to national identity as much as other areas, but this merely raises more questions. "Why is Tuzla not progressing despite such an advantage?" Mirza Haličević reports.
In February of this year, Tuzla's disappointed youth and dissatisfied workers took to the streets to protest for their basic human rights. Posters, held high in an effort to send a message to the ruling authorities, colored the demonstrations. One of the posters stood out for its simplicity and unifying power. In all three Bosnian languages, it read: "We are hungry."
Tuzla claims to be the most liberal city in Bosnia-Herzegovina, but placed in another context one might question this liberalism. One might consider this liberalism a mere necessity born out of the existential crisis many are experiencing. Therefore, just as the saying "Hard times reveals true friends" suggests, the process of transition can be said to reveal a positive dimension within a less than ideal situation. "The terrible economic situation and high unemployment rates have served as fruitful grounds for coexistence to emerge. Solidarity has become crucial and the only division that should exist is 'us' the people versus 'them' the ruling authorities," says Azra Mehmedovic from Tuzla.
We the disenfranchised, as broken and damaged beings, are everywhere. In this sense, we do not know of division, just as the intensity of pain does not know to whom you belong. If we take a deeper look into the core of the Bosnian system, we will undoubtedly realize that all of its aspects and dimensions reflect the consequences of the war. Therefore, we ought not to force reconciliation upon the victims, but should instead aim for personal harmony and mutual understanding. We as a new generation have a responsibility to address the past and its victims and must therefore aim to build a judicious future based on understanding and coexistence. We must not allow the rebirth of the communist ideal, which would inhibit freedom of speech. We must not become a mere political creation limited by lines on a map. We have to develop our own awareness by allowing ourselves to make mistakes and allowing for second chances. Creating prejudice is easy. We must instead work on creating space for understanding and constructing views, beliefs and attitudes based on our own experiences—we must set aside our parent's history of war.
"Sometimes conversation is seemingly ineffective, yet it can be very productive. The very act of conversation could be interpreted as a special kind of coexistence, an opportunity for progress and new possibilities. We are a nation standing on a mountain of problems, and by talking about them, we are capable of addressing them one at a time," adds Boris Pavlović from Tuzla.
Political influence, communist ideas, and war rhetoric are commonly passed down to children in Tuzla, and it is the nationalist orientation of the children's parents that seems to have the greatest influence. Children have no choice but to become indoctrinated with certain attitudes and are often raised to hate and discriminate, which can be difficult to overcome. The logical question arises: "Why would anyone raise their children this way?" The answer is both simple and complex: it is the consequence of an unfortunate history of war. During the war, specific views were formed as a result of the globalization of nations and peoples. The remains of such views and rhetoric raise new generations today; generations with formed attitudes—attitudes based on things only their parents can explain.
As Ivo Andric once wrote: "War, regardless of how long it lasts, only brings forth questions of what caused it. Only after war's conclusion, when peace has been restored, can these questions be answered."