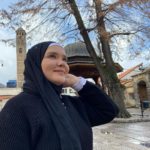 —

Dženisa Joldić

—

Dženisa Joldić is a trained Balkan Diskurs correspondent from Sarajevo. She was born on June 11, 1999. At the age of 12, she published her first collection of poems, "Sunčani zagrljaj". She is currently a third-year student at the Faculty of Political Sciences in Sarajevo, Department of Communication and Journalism. She likes to express herself creatively through writing and photography.
Nedim Ramić, a 21-year-old from Sanski Most in Bosnia and Herzegovina (BiH), did not sit back and wait for someone to help him make his childhood dream of becoming a hairdresser come true. During the pandemic, he started working in clients' houses or yards, sometimes without pay, which helped him become successful in his business today.  
Non-governmental organizations are helping to educate and empower hardworking Roma women to take an active role in Bosnian society. The Otaharin Citizens Association for Promotion of Roma Education is a prime example. Otaharin's mission is to increase the levels of education, social and economic integration, and inclusion of vulnerable marginalized groups, including Roma women. The association has given women like Sabira Hašimović a "normal" life.