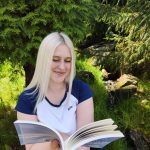 —

Danica Novaković

—

Danica is a trained Balkan Diskurs correspondent from Banja Luka, where she is currently studying at the Faculty of Natural Sciences and Mathematics. Danica is versatile, adaptable, open-minded, and always ready for new challenges. In her free time she enjoys creative writing, amateur photography, and reading books. She is also actively involved in journalism and has been writing for the eTrafika Portal for two years.
The short video entitled "Why Bosnia and Herzegovina Can Be the Number One Tourist Destination in the World," created by Robert Dacešin, won the award for the world's best tourist film which will be presented on November 24th in Valencia by the International Committee of Tourism Film Festivals (CIFFT). This is just one of the …
First as an informal group of citizens and later as an association, members of ADOPT Srebrenica created a neutral space where they can freely talk about the past, the events of the war, its consequences, and current affairs. Their aim is to foster sustainable coexistence, a more promising future, and mutual reconciliation. 
A young architect from Sarajevo, Emina Arapčić (32), has been experimenting and working with concrete for a long time. ON.design emerged in 2016 as a project to bring together and showcase her work to a wider audience.