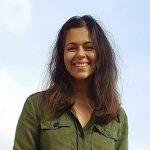 —

Gül Uret

—

Gül Üret graduated with a Master's degree in International and Global History at Aarhus University. She completed her bachelor's degree in History with a focus on the history of the Balkans, the United Nations and the European Union.
In the early '90s, no one believed that war would hit Sarajevo or that the Yugoslav National Army could turn into an enemy of the city's people. For centuries, Sarajevo had been a multicultural city with its mosques, synagogues, and Catholic and Orthodox churches.
Women are the largest under-utilized asset in the world. In Turkey, less than 9% of entrepreneurs are women. Turkey's only women-focused investment platform, the Arya Women Investment Platform, wants to change this. Balkan Diskurs spoke to Ahu Serter, founder of the Arya Women Investment Platform, about the platform's work, its ongoing projects and its future plans.