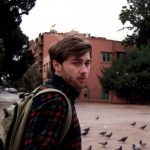 —

James Hill

—

James Hill is a former intern at the Post-Conflict Research Center in Sarajevo. He is a graduate of History and Politics from the University of Leicester in England where he tailored his degree towards the study of BiH and the rest of former Yugoslavia. James is particularly interested in the city of Sarajevo and its historical background as a meeting point of cultures and believes that Bosnia has a vital role to play as a bridge between east and west, especially at a time of wider instability within European and international relations. He feels that BiH is often side-lined and somewhat ignored by larger nations, including his home country of the UK.
As Europe continues to grapple with growing Islamophobia fueled by a surging refugee crisis and Islamist terrorism, questions are increasingly being raised on whether Islam is compatible with European civilization.
How did a perfectly normal British teenager end up fighting in Somalia as a recruit for the Al Qaeda-affiliated group Al Shabaab?
Nearly 30 years have passed since the Berlin wall was pulled down, a city was reunited, and a continent looked to a more hopeful future. Yet around the world walls and fences continue to divide people. "Walls", a film by Pablo Iraburu and Migueltxo Molina, follows the real-life stories of the people living on both sides of such barriers.