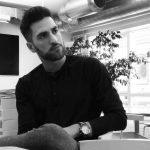 —

Kashif Malik

—

Kashif is from Denmark and holds a Bachelors degree in International Studies and Social Sciences, as well as a Masters in International Security and Law. He has co-founded and organization called Freedom Movements which aims to improve the conditions refugees are faced with in Denmark by acting as a catalyst for refugees to empower their own voices.
People will question your idea, but the most important thing is that you believe in it all the way, even if you fail multiple times throughout your journey. 
Sarajevo is a place where local talent is trying to distance itself from centralized ideas. At the forefront: stylist Gordana 'Gasha' Miladinović.
So who is Božo Vrećo? Who better to ask than the man himself?