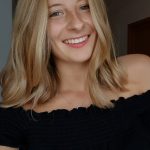 —

Léa Périllat

—

Léa is Balkan Diskurs trained correspondent and this year's intern, from France. She's currently pursuing a Bachelor's Degree in Political Sciences and International Relations at Sciences Po Paris where she specializes in Central and Eastern Europe. Having been raised in Bosnia and Herzegovina, she was aware of human rights violations and conflict resolution issues early on. Her desire to get involved in the lasting reconstruction of her country of origin led her to work at PCRC. After completing her undergraduate studies, she will pursue an MA in Human Rights and Humanitarian Action concentrating on Gender Studies.
While they are aware of various shortcomings, the Support Office says that they are constantly working to improve their resources so they can better serve witnesses and Bosnia and Herzegovina (BiH). 
The authorities in Bosnia and Herzegovina (BiH) should focus on young people and families leaving the country. The large diaspora can also be one of the possible sources of economic development of the home country. Moving abroad, as the diaspora says, does not erase memories or ties with the homeland, but creates a changing perception of what home is.