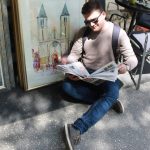 —

Luka Čavar

—

Luka is a Balkan Diskurs trained youth correspondent from Jajce, BiH. He now lives in Dubrovnik, Croatia and is a graduate student of Media at the University of Dubrovnik. Luka has published work on a number of Dubrovnik portals.
In an interview with Balkan Diskurs, Sofija Todorović, a young activist from Belgrade, says: "The biggest problems of young people in Serbia, and the whole region, are ignorance and fear." Sofija defended Mon Gjuraj, the owner of the "Roma" bakery in Borča, when a protest was organized against him near Belgrade. The protest started because …
In a recent interview with Balkan Diskurs, Edhem Custovic discussed the recent establishment of the BH Futures Foundation (BHFF) and the launch of the Futures MakerSpace center in Srebrenica.