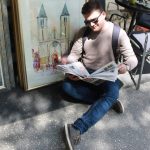 —

Luka Čavar

—

Luka is a trained Balkan Diskurs correspondent from Jajce. He currently lives and works in Dubrovnik. Luka is a student of media studies at the University of Dubrovnik, and so far he has published papers on numerous Dubrovnik portals.
According to experts, the legal regulations on domestic violence and violence against women in Bosnia and Herzegovina are relatively good, but their consistent implementation is still necessary, as is securing equal access to the system throughout the country.
In an interview with Balkan Diskurs, Sofija Todorović, a young activist from Belgrade, says: "The biggest problems of young people in Serbia, and the whole region, are ignorance and fear."
In a recent interview with Balkan Diskurs, Edhem Custovic discussed the recent establishment of the BH Futures Foundation (BHFF) and the launch of the Futures MakerSpace center in Srebrenica.