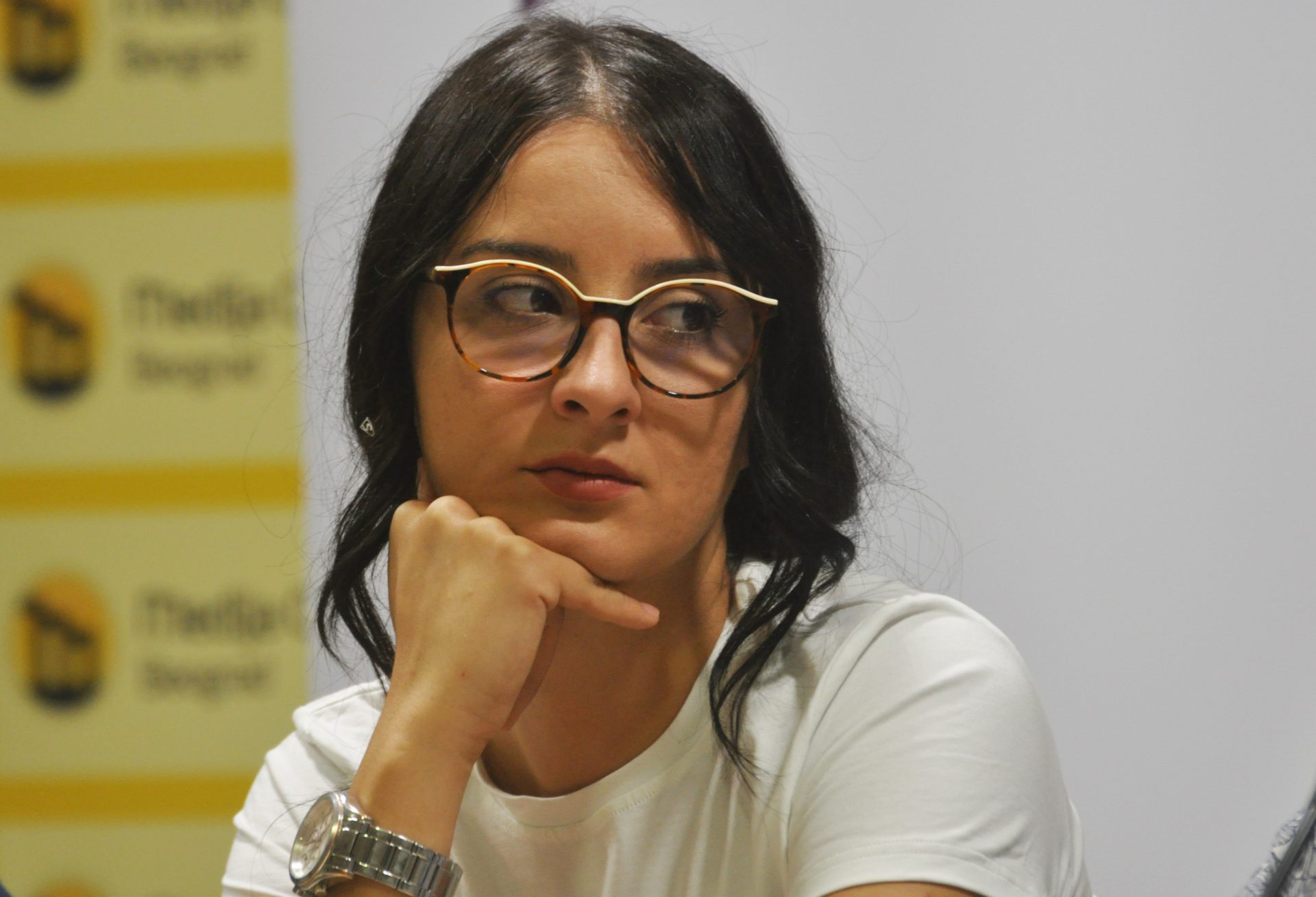 In an interview with Balkan Diskurs, Sofija Todorović, a young activist from Belgrade, says: "The biggest problems of young people in Serbia, and the whole region, are ignorance and fear."
Sofija defended Mon Gjuraj, the owner of the "Roma" bakery in Borča, when a protest was organized against him near Belgrade. The protest started because his brother Florim posted a picture on social media in which he was making a gesture that symbolizes the two-headed eagle on the Albanian flag.
_______________________________________________________________________________________
Balkan Diskurs (BD): Who is Sofija? 
Sofija Todorović (ST): Sofija is a terribly curious and righteous person. She is often very dedicated, but she thinks that's just what gives a special charm to everything she does.
BD: What motivated you to defend the young Albanian from Borča? How was this decision accepted by the people around you?
ST: Basic humanity. No one should have the power to create an atmosphere of persecution and "exile" people while everyone around is silent. I cannot understand this; I cannot remain silent in the face of such inhuman and nationalistic endeavors. Of the people around me… let's just say there were mixed reactions. The loud ones were the ones who were angry, but such people generally think the one shouting the loudest is always in the right. At some point, I even read somewhere that I allegedly called the little kids who were going to the counter-protests Nazis–imagine how ridiculous that was.
Basically, my neighbor Mon Gjuraj still lives in Borča and his bakery is still working, despite everything. I think we managed to protect one family as much as possible despite all the difficulties we faced, and at the end of the day that's what counts.
BD: How do we resist nationalism and hate when they are so common nowadays?
ST: Well, one way is to make those topics meaningless by putting man as the central notion of every affirmative action, not his nationality. Solidarity is also very important, including joint actions at a regional level.
BD: Activists are often considered in terms of left-wing and right-wing. In what category would you put yourself?
ST: I wouldn't really classify myself. In my opinion, when it comes to left-wing and right-wing these days, very few people actually even understand what those mean. However, this does not mean that I do not think that anti-fascism is the ultimate value, that respect for human rights is a condition sine qua non, and that our differences make us richer societies. Democratic and European values are something I stand for and that it is important for citizens to live in freedom and not in fear. I can classify myself as a feminist and feel great about it.
BD: You are one of the activists committed to creating a unique historical narrative in BiH and the region, including the truth about the Srebrenica genocide (the site of which you visited in 2015). What motivated you to become active in this field as well?
ST: Yes, that statement is true. I believe that our histories do not currently inspire us to learn more about one another, nor do they prompt us to see things from someone else's perspective. Every national version of historical events contains a lot of inaccurate information.
At one point in my life, nothing was clear to me anymore. I was angry because I felt that the knowledge I acquired through the education system did not answer my questions, and that the dominant political narrative was not in line with my value system. I was also very curious about the cause of all these feelings.
My trip to Srebrenica changed my life. I remember the behavior of the Republika Srpska police a few days before the commemoration event. I remember all the coffins and the families crying because they were getting the remains of their loved ones after waiting for 20 years. I remember the girl I met on that program who gifted me the Srebrenica flower that I carry in my wallet to always remind me of the nationalist savagery of Balkan divisions.
BD: What is your driving force in life? What do you consider as your biggest loves, motivations, and passions?
ST: My greatest drive is the fact that I happen to be in a situation where I can see the space to improve something or to contribute; it inevitably drives me to do something about it if I can. I know this is probably a cliché answer, but my biggest love is my family, which is made up of my sister and my mother. It is my safe zone, my charger and my compass. As much as they sometimes disagree with me, they constantly remind me how important love is and how much people can actually love. I find motivation in injustice. Injustice is somehow always present, but everyone can also always do something about it and make someone feel a little better. When it comes to passion, let's say poetry and dancing.
BD: What inspired you to be an activist? How did it all start?
ST: It all started with an email I sent to the Youth Initiative for Human Rights on the occasion of the 'Jer im se može' campaign that dealt with violence against women. I can say for myself that I was under dominant narratives during my adolescence, but at some point you realize that such narratives not only fail to answer all the questions, but they also often impose 'solutions' that don't contribute to a better life for people.
BD: What are the biggest problems of the youth in Serbia and the entire region?
ST: Ignorance and fear. Ignorance does not appear on its own, which has always led me to conclude that the education system is as problematic as dominant social narratives are. Young people are taught to fear the state, the police, change and politics, something different; then all other things just stick to that instilled fear and ultimately have much worse consequences.
BD: Why aren't the young people more active in their communities? What does it take for them to wake up?
ST: They are awake; in a way they only know how to be awake. Do some things not interest them? Yes, many things do not interest them because they are afraid of them or think they will only cause them trouble, or that at the end of the day someone else will solve those problems. But I think it is terribly important to emphasize that young people do not have to, especially in this age of pressure where everyone has the expectation that young people need to wake up, take on whatever is not their responsibility and save the world. It doesn't work that way.
It's very important for me to look back at the positive examples that exist in the region. Let's look at the crowd of young volunteers at each Belgrade Pride, let's remember the "Free Zone," and then the youth from Croatia talking about Oluja, the youth from Kosovo and Serbia that organize "Miredita, Dobar dan" Festival, and young policy makers. We can emphasize and promote regional cooperation, and a general respect for human rights.
BD: What values should be strengthened in our society? Do you have any advice for the youth in the region?
ST: Solidarity, freedom, and human dignity. I think that people in the region feel humiliated, and it's been like that constantly and for a long time in many different ways. I would say nothing to the youth. Young people know a lot and can do a lot; I just wish they manage to resist becoming victims of pernicious ideologies and destructive narratives.
_______________________________________________________________________________________
For her hard work and exceptional contribution to peace building and protection of human rights in Serbia and the region, Sofija Todorović has been awarded the "Ordinary Heroes" award this year in the Western Balkans category by the Post-Conflict Research Center.