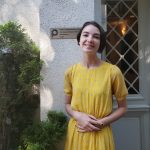 —

Mia Baxley

—

Mia is a graduate student at Duke University, pursuing an MA in Political Science with a concentration in Security, Peace, and Conflict. She holds a BA in Political Science with a concentration in International Relations from the University of North Carolina at Pembroke. At UNCP, she was active on the Model United Nations team and developed a strong love for international organizations and human rights through her involvement. Before coming to Bosnia and Herzegovina, she has traveled to China, Thailand, and South Korea, the last of which was a one-year teaching position at an elementary school in Seoul. She has come to Bosnia to study genocide prevention and advocacy and to better understand how societies and people recover from internal conflicts.
The fight for women's rights in Bosnia and Herzegovina (BiH) has been one of the most difficult human rights issues to overcome in recent years.
The preservation of reproductive rights is one of the greatest challenges to personal rights in 2022. Activists in both the developed and developing worlds share this common fear as governments large and small slowly roll back on previously established legal rights.