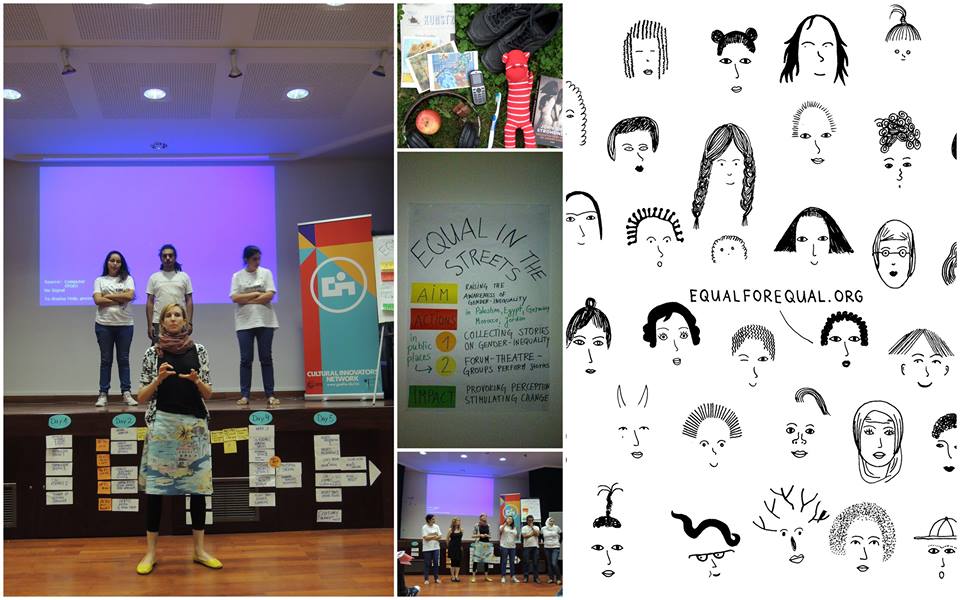 Equal for Equal is an international non-profit dedicated to raising awareness around the experiences of women. Lucinda Klarich-Kahn explores their background, aims and future plans.
Equal for Equal is the result of the collaborative efforts of several young participants of the Cultural Innovators Network (CIN). The Goethe Institut came out with CIN in response to the wave of protests that swept the nations surrounding the Mediterranean in 2011. CIN invited twenty young, socially involved people to join the first "learning journey" in 2012. It served as a platform for communication, exchange and learning provided for young, active civil society members from Europe and the MENA region.
The founders of Equal for Equal come from a variety of backgrounds and stories. CIN provided them with a platform to express shared passions and goals. When discussing the nature of sexism in their respective countries, they first recognized the value of transnational women's narratives. According to Equal for Equal's website, ""it is not only the obvious stories that show how a society deals with gender equality, it is also ordinary aspects of daily life that can teach us about the state of women's rights.' Equal for Equal' makes everyday stories visible and provides an insight into the different social and political realities of women." By promoting stories about women's lives, Equal for Equal transcends the limitations of sexism and xenophobia, and fosters an environment of strength, courage and humanity.
PCRC was fortunate enough to have an interview with one of Equal for Equal's founders, Rania Rabah of Tunisia. A medical student interested in sexual education and reproductive health, Rabah has taken the initiative to travel to local academic institutions in order to lead workshops on these issues. This endeavor is often made difficult by institutional resistance, but Rabah is committed to fostering an environment of sexual education. Fortunately, she says, medical students have some authority over teachers, and her side project is making successful rounds.
When Rabah and her six cohorts first met at CIN, she knew that group collaboration was going to result in something ambitious, interesting and international. She says that in its initial development, the group knew that Equal for Equal would exist to raise awareness around the relational aspect of gender discrimination in different countries; adding, "What can we do? What's an effective action to raise awareness?" Working together with women from Europe and the Middle East, mainly through Skype group sessions, they developed the Equal for Equal's organizational structure.
Equal for Equal's stories are collected through both a network of social contacts and interested parties. It is possible to ask individuals for submissions, but many stories are submitted voluntarily by women inspired by the nature of the program. There are two journalists on staff that help interview and produce stories from volunteers. The submissions tend to vary in content. Rabah recalls some recent memorable pieces: "Saida from Iran… she's a lawyer, so she's able to outline the whole context of women's situation in Iran. However, there was a girl from Jordan who wrote about personal feelings, daily life. It's not about a bigger story necessarily, but about being able to relate to her." According to the website: "Our platform has no restriction on theme, but ultimately we are dedicated to the ceaseless effort of challenging stereotypes and providing viewpoints on society, culture and politics that cannot be found in other media. As such, some of our regular topics include transitional justice, inequality and human rights."
Rabah loves reading the submissions of women from all over, because she feels she is able to "connect to those women, by those stories, by sharing; the same [infrastructural oppression] is visible almost everywhere. It's not so important whether you're from France or Tunisia, and it's so empowering to know you're not alone in [facing that oppression]… I gain so much experience from that, and I'm thankful."
The organization has plans for future growth. Rabah discusses the issue of sustainability and organizational development in regards to promoting gender equality in an international context. Equal for Equal's staff is currently in conversation about ways to further the cultural networks of anti-oppressive dialogue. In May 2014, a working group cultivated a separate project entitled "Equal in the Streets," which uses methodology from "Theatre of the Oppressed." This theatrical technique will be conducted in public spaces and will use the submitted stories from the Equal for Equal website as a basis of storytelling. "In the tradition of Forum Theatre, the so called 'spect-actors' get the chance to intervene in the play and add themselves as new characters to find a solution for the shown conflict. The aim is to confront ordinary people, many of whom may just be experiencing the play by chance, with their own experiences of, and perspectives on, gender inequality." There is also talk about developing a team-led workshop on storytelling that can be held at interested organizations.
Subsequent to this interview, Lucinda Klarich-Kahn submitted her own story. Read it here.