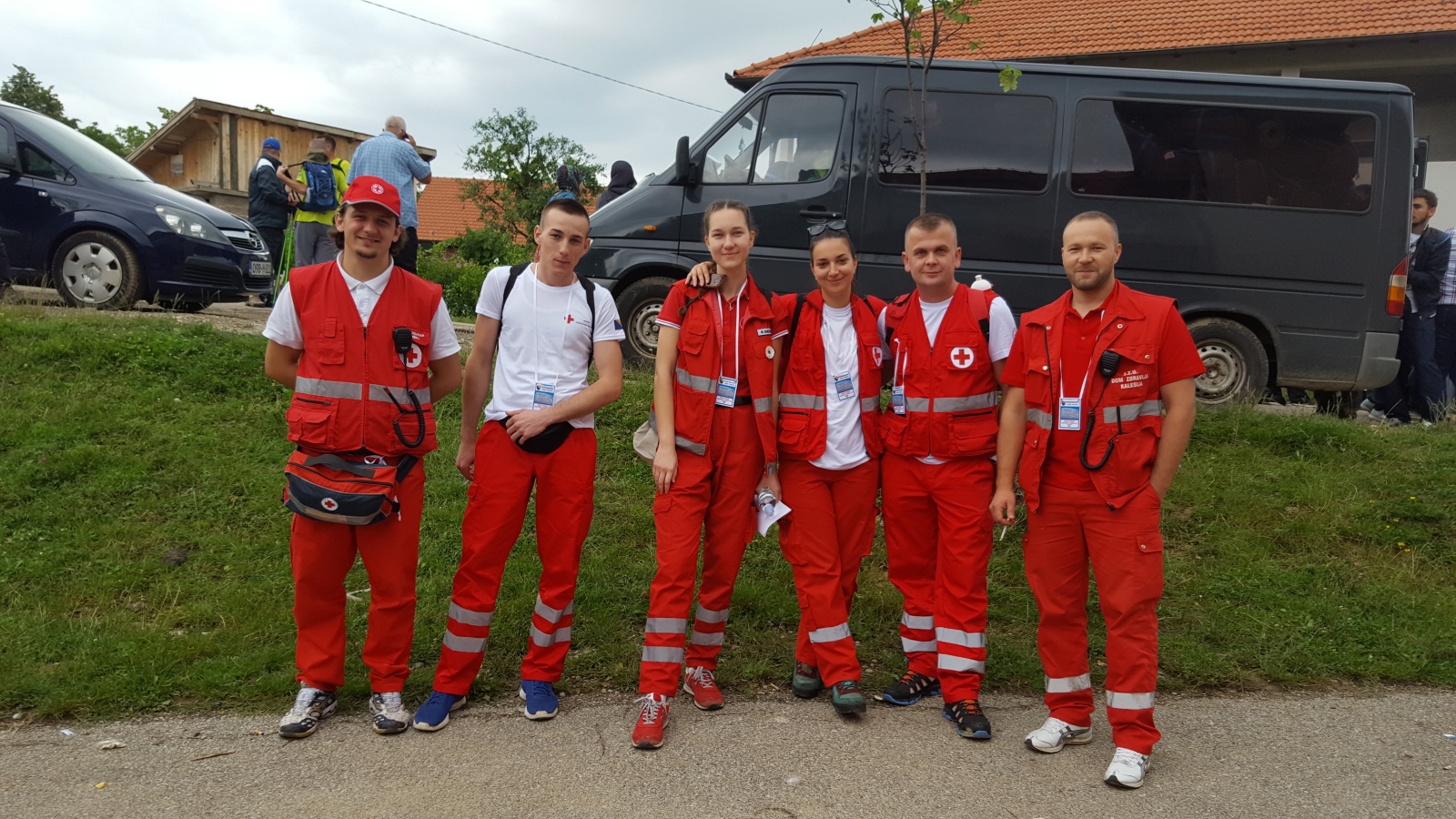 In this year's Peace March, thousands of participants walked from Nezuk (Sapna municipality) to Potočari (Srebrenica municipality) in memory of those killed in the genocide of July 1995. They passed through mountainous terrains, dense forests, and a number of returnee settlements. Upon arrival in Potočari, they attended the funeral for 50 victims of the genocide whose remains were found over the past year.
Among the march participants were many members of the Civil Protection of the Federation of BiH and the Red Cross of the Tuzla Canton, the so-called "reds," who were also there to provide first aid and any other support for participants if necessary.  
Azmir Huseinović, originally from Konjević Polje, is a volunteer for Red Cross Lukavac (Zvornik municipality). He was not even four years old when the genocide in Srebrenica was committed in July 1995. After the fall of the then protected enclave of the United Nations (UN), part of his family left for Lukavac. He stayed there until he moved to Slovenia in 2019.  His father, grandfather and four uncles were killed in the genocide. 
"In 2008 I set off for my first March. I went as a civilian, trying to see and learn as much as possible about the Death March of July 1995 from people who survived it," said Huseinović. 
Thanks to the Red Cross Lukavac and the Red Cross of the Tuzla Canton, Huseinović went to the March in 2011 as part of the first aid team, which was a confirmation for him that this work was and always will be his calling.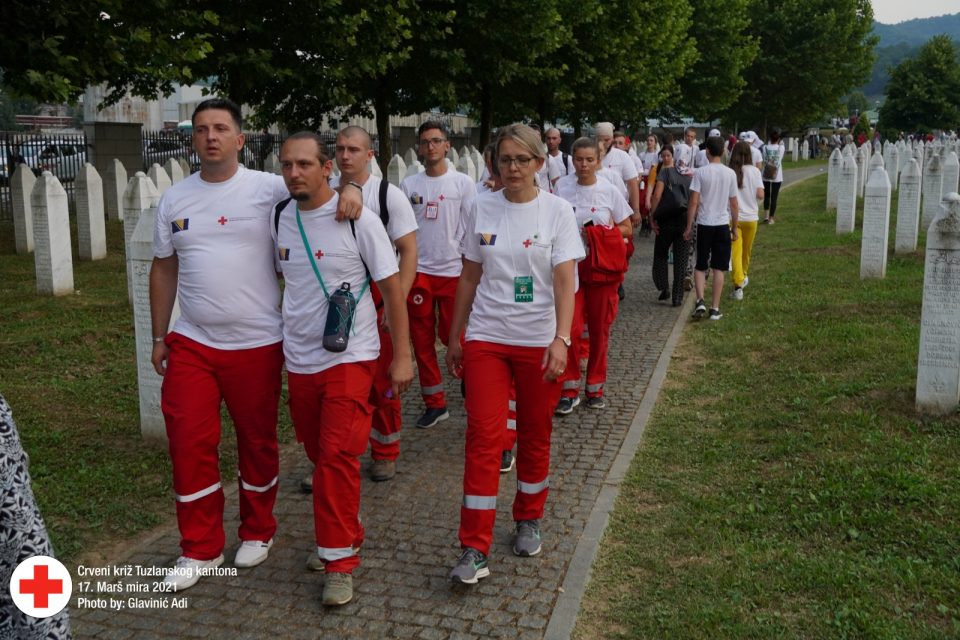 "Being able to help others while walking that path with them is an incredible feeling, because it often makes me think of Dr. Ilijaz Pilav and Dr. Fatima Klempić. These remarkable individuals risked their own lives to help people trying to reach free territory through various ambushes and mined areas," Huseinović explained.
Every march opens old wounds for Huseinović. They are emotional and difficult journeys because members of his family were killed somewhere along the way while trying to reach freedom and their loved ones.
His closest relatives are buried at the Srebrenica Memorial Center in Potočari. When the marchers reach that site, Huseinović and his "red family," as the volunteers of the Red Cross call one another, go to the graves of his loved ones and honor them by praying.
Huseinović highlighted that "having a family like them, an army of people in red, who are there by your side no matter what, is an incredible feeling."
No difficulties on the Peace march route are insurmountable for Huseinović. Regardless of how many challenges he faces, come intense rain or extreme heat, Huseinović presses forward because he wants to help people. Once he reaches the white lines of the gravestones, he forgets all of the hardships endured along the way. He explained simply: "we do this so Srebrenica never happens again to anyone."
24-year-old Dino Hasanović, a volunteer for the Red Cross Sapna, has also been marching the route to Srebrenica for several consecutive years with the intention of helping other participants if needed.  
"As a Red Cross volunteer, I wanted to do something to help and felt an obligation to walk the route that the people of Srebrenica walked in July 1995. I believe that every person should make the journey from Nezuk to Potočari," said Hasanović.
He explained that while there are certain difficulties to be faced along the way, arriving at the Srebrenica Memorial Center in Potočari and experiencing the gratitude and feeling of having helped someone make them all worthwhile. 
"I would invite all citizens to march this honorable way and to be the bearers of the message: 'May it never happen again to anyone,'" said Hasanović.
20-year-old Belmin Alibašić, also a volunteer of the Red Cross Lukavac, has been providing help on the March route for the second year in a row. He emphasized that there are many smart, experienced and good people around him and that the difficulties that they face do not matter once they get to the Srebrenica Memorial Center.
As part of the commemoration of the genocide against Bosniaks in and around Srebrenica, thousands of participants from Bosnia and Herzegovina and around the world pass along the March route to commemorate those killed in the genocide. The march lasts three days, from July 8 to 10, and takes the following route: Nezuk – Baljkovica – Parlog – Crni Vrh – Snagovo – Liplje – Jošanica – Donja Kamenica – Bakrači – Glodi – Udrč – Cerska – Kaldrmica – Đugum – Mravinjci – Burnice – Kameničko Brdo – Ravni Buljim – Jaglići – Šušnjari – Budak – Potočari.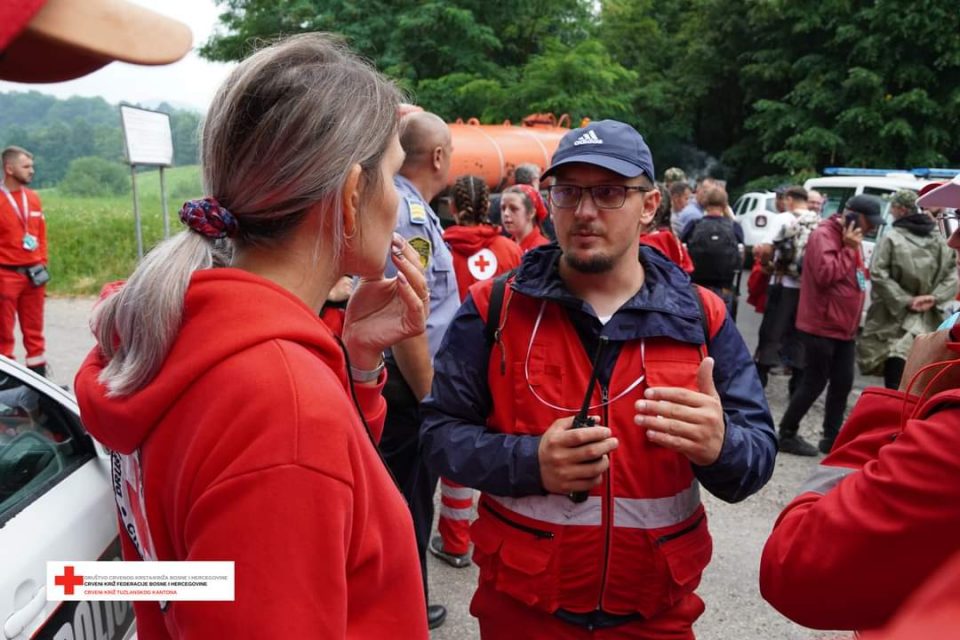 During the journey, shorter history classes are held in certain localities where one can hear testimonies from survivors of the "Death March" of 1995. It is possible to meet many of the survivors because they are in the column of participants. Participants also get familiar with the places of mass execution for captured Bosniaks, as well as the sites of primary and secondary mass graves.
For those who do not feel physically ready to complete the route from Nezuk to Potočari, there is an alternative route from Borak to Potočari that lasts two days.