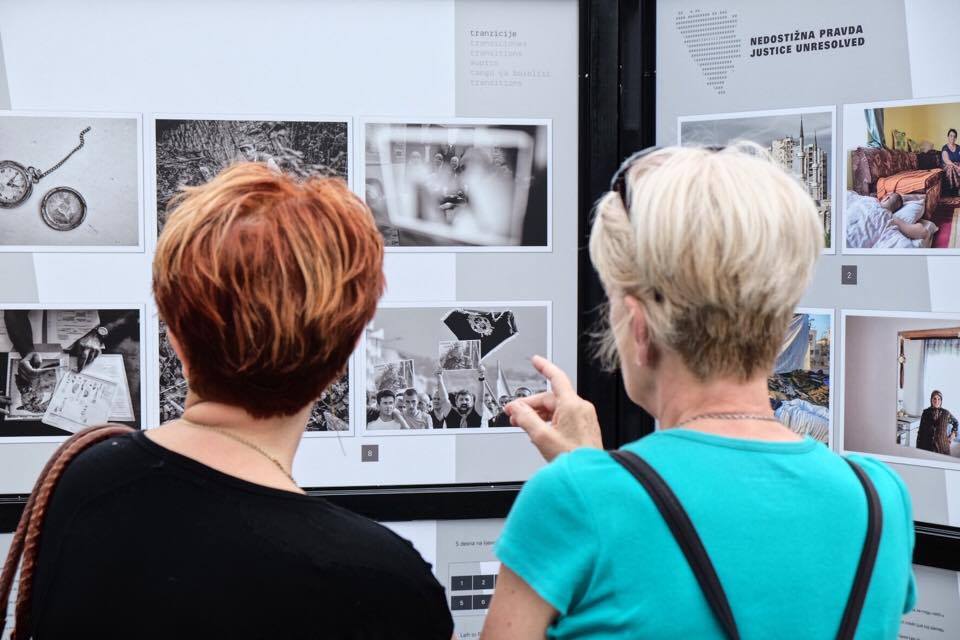 Transitional Justice is a term uttered across societies; the concept of creating a just peace as a means to a lasting peace. But what does this term, easily explained in academic and legal terms, mean 'on the ground'?
Transitional Justice is a term uttered across societies; the concept of creating a just peace as a means to a lasting peace. But what does this term, easily explained in academic and legal terms, mean 'on the ground'? Balkan Diskurs correspondent Struan Kennedy sits down with two members of the 'Transitions' curatorial team to discuss the process behind making 'transitional justice' relatable and digestible to audiences around the world.
'Transitions' is a multimedia photography exhibition that explores the journeys of transitional justice in conflict and post-conflict nations. The initiative was co-curated by teams from Bosnia and Herzegovina (BiH), Colombia, the Democratic Republic of the Congo (DRC), and the United States. Through this international collaboration, curators and photographers reflect upon each country's transition from war to peace. This collection of photographs, texts and timelines do not intend to provide a comprehensive overview of any one nation or community, but instead, offers introductions and intimate glimpses into a selection of intersecting issues and themes across diverse regions.
The information that follows digs deeper, to get behind the process of 'Transitions' via the personal and professional insights from interviews with Leslie Thomas, founder of ART WORKS Projects, Chicago and initiator of the project and Leslie Woodward, co-founder and vice president of the Post-Conflict Research Center (PCRC), Sarajevo. Together, they comprise one half of the international curatorial team behind 'Transitions,' working alongside Yole!Africa out of Goma, DRC and Centro Nacional de Memoria Histórica in Bogota, Colombia. Photographers Sophia Nahli Alison (US), Midhat Poturović (BiH), Martin Lukongo (DRC), and Juan Arredondo brought each team's vision to life.
'Transitions' formally began with a huge amount of exploratory discussion before the taking or selecting of any images. Brainstorming potential themes was facilitated by team members' prior knowledge (for instance, in BiH, PCRC's founder and president, Velma Šarić, is an investigative journalist by training, with in-depth knowledge of transitional justice mechanisms in the Western Balkans) as well as extensive research and collaboration with area experts. In BiH, four distinct themes emerged from these brainstorming sessions:
Access to justice: The ongoing search for justice through 'formal mechanisms', fact-finding and truth-recovery processes via institutions such as the International Criminal Tribunal for the former Yugoslavia (ICTY) and the International Commission on Missing Persons (ICMP), which both provide established and accessible bodies of evidence that contribute to the official narrative of the Bosnian war that took place from 1992-1995.
Memorialization: Practices of remembrance are hugely important given the contested nature of many memorials. These can prove sensitive triggers for ethnic tensions simmering just beneath a society's surface. A critical survey of such practices can ameliorate misinformation or even erasure of past events.
Unresolved processes: By reporting on the progress, or lack thereof, made in post-conflict BiH, it is possible to envisage what must still be achieved in order to reach a desirable destination.
Ethnicity and sources of unification: Examples exist of various types of progressive social change; their documentation can instill hope in current fraught situations.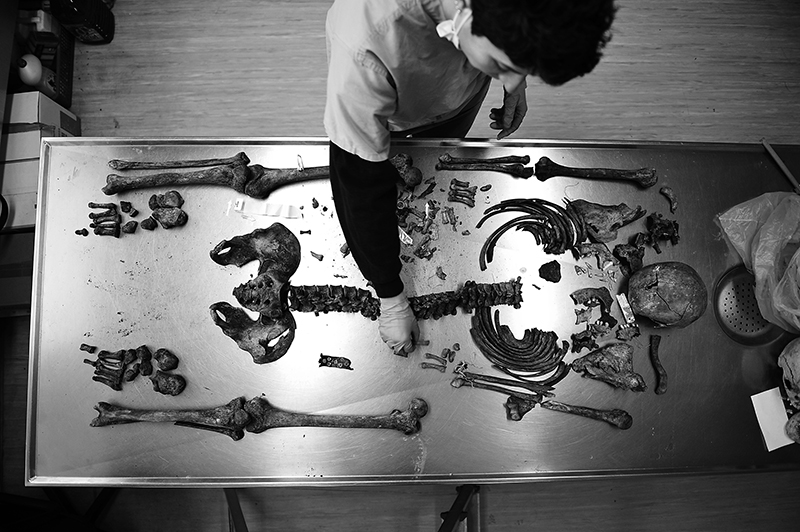 An argument could be made that deciding on themes may have been the easier step in the process; how to appropriately visually represent these themes – often couched in legally perplexing jargon – was the teams' next challenge. For the Bosnian curatorial team, a portion of the photo series planning was built around getting coverage of established events and known dates. Whilst a solid first stepping stone, the team was keen to capture a more organic side of transitional justice; to look its day-to-day emotions and actions directly in the face. This photographic behavior predictably raised some suspicion around certain memorial sites, often protected within communities. So while justice itself can be played out concrete terms, the teams were always prepared to use creative methods to overcome this challenge of capturing exactly how each post-conflict society measures its development. Acquiring these creative methods was assuaged by the curators' direction to the photographers: they were granted freedom to interpret the themes through their own lens.
Accompanying the visual component was a required exegesis to disclose those facets not immediately communicated through the photographs' formal elements, i.e. color, shape, line and composition. For 'Transitions', each team produced a timeline of related events that chronicled the breakdown and subsequent partial restorative journey back to normalcy. These timelines were designed as such to illustrate that the journey to justice is neither neat nor linear. For the US, the Civil War was a moment in the fight against slavery, yet this fight, albeit in an insidiously evolved form, is not over. In BiH, the timeline features major moves forward in the search for truth and justice, such as the international recognition of rape as a crime against humanity. Just as the line goes beyond the primary limits of a conflict to show a current, post-conflict situation, it also starts before the official beginning of a conflict. In BiH, the team went back as far as General Josip Broz Tito's death in 1980 to give adequate historical space for a greater pre-conflict context.
But what of the language used to compose each conflict's timeline – how did the teams maintain neutrality? All members were, of course, aware of the importance of this particular type of language given that it is describing terrible events, and such language demands precision in its description, not hyperbole. One technique in staying as close as possible to a neutral position was to rely on factual references: the findings of the ICTY were a primary source for the development of the BiH timeline. As expected, the more details included, the harder the task of maintaining neutrality, hence the tightrope the team walks over the course of the project gets longer. To combat this reality, strenuous efforts were made to seek equal representation whether racially, ethnically or geographically. By doing so, the project elucidates that conflict is rarely black and white; even the divide between victim and perpetrator can become blurred at certain times and places along the journey. These attempts at inclusivity were on occasion a struggle, but as Thomas pointedly remarks: "Everyone struggles with representing a/the truth. That is life and art."
Clear and concise communication was the ballast for an otherwise unnerving organizational design – four separate units over four different continents could have so easily become a tribulation. Discussions were lengthy, involved all participants and happened regularly. These conversations coalesced in Chicago during an 'immersion weekend' which allowed for an ardent exchange of experiences. Similarities in themes materialized, for example, the issue of child soldiers overlapped in the cases of Colombia and DRC. Contrarily, differences in how far societies have come in their journey proved useful comparisons in the stages of transitional justice. This can be conceived of as chronological distance from a period of conflict: America is roughly 160 years away, BiH is further out than DRC and Colombia has just started to move away from its conflict period. Another apt metaphor may be the idea of these post-conflict societies as travelers on different roads but all walking toward the same location – peace. With some travelers further along their path, they can look back and give direction or offer helpful tips of best routes, sharp turns to be wary of and even sudden pitfalls ahead to avoid. In addition to communication between relatively small teams, local community knowledge was also a vital tool. Contacts streamlined research and were a gift of detail to the photojournalist perspective. Woodward recounts how local sources provided a well-defined example of unity where two men from different ethnic groups started a business together after the war.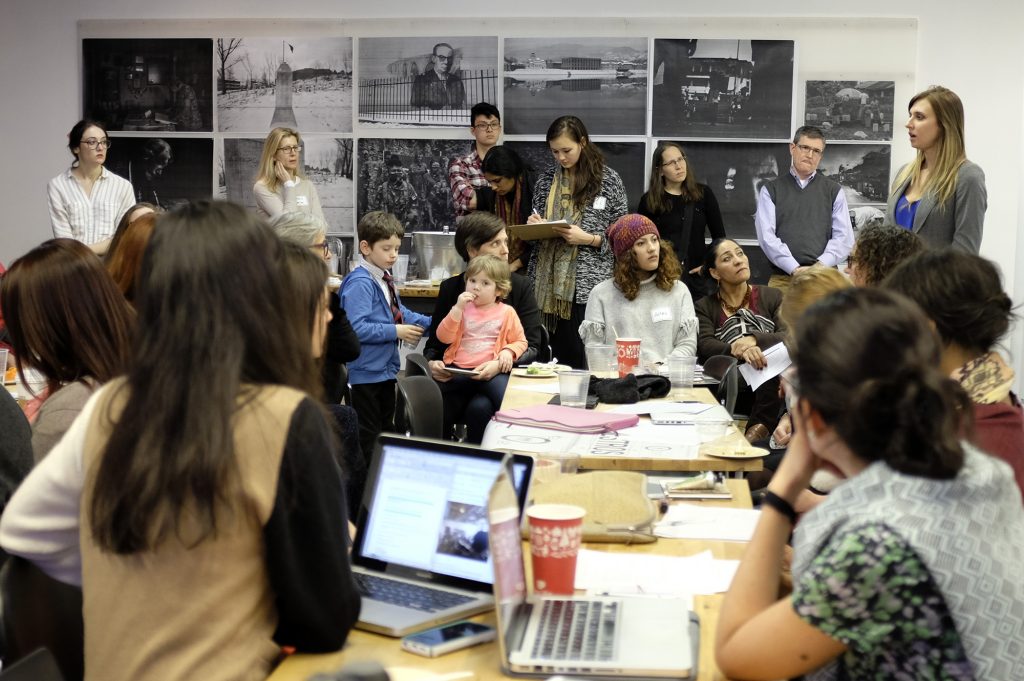 Editing was an additional imperative in structuring a balanced exhibition of positive and negative imagery. Each theme was assigned 8-10 images, which not only had to have visual appeal but the correct ordering of a set narrative that did not overturn the emotional balance and that incorporated some form of hope. An episode that captures this intricate relationship between positive and negative is the 2014 political unrest in BiH known as the 'Bosnian Spring.' This series of demonstrations by grassroots movements had not yet been seen during Bosnia's post-conflict transition and proved encouraging. That same year, the region was blighted by the 'Southeast European Flood' (13-19 May). Yet, out of this natural calamity emerged a secondary, unforeseen hope: people put aside their ethnicity to help each other in their moment of need.
Now, with the unveiling of 'Transitions' in Chicago, Bogotá, and Sarajevo, and the upcoming opening in Goma, each team director charts the likely future of 'Transitions', assessing the possible benefits and beneficiaries, as well as prospective obstacles in implementing their planned strategies within each specific context. Ideally, each project partner would stage a national tour of the exhibition consisting of a public display in highly trafficked locations in principal cities, e.g. Tuzla and Banja Luka as stops on the BiH tour. To further the impact of 'Transitions', opening ceremonies will be held, at which political, civil, religious and educational representatives will assist in the unveiling.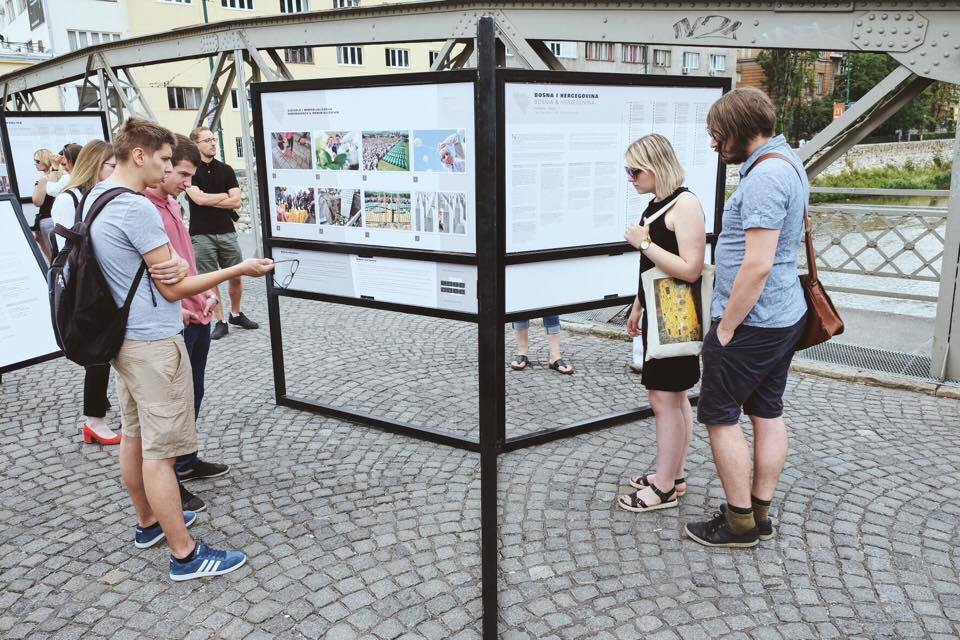 In Bosnia specifically, 'Transitions' will be utilized as a means to provoke an internal dialogue among its viewers about what justice means to them. Plans are also in the works to implement a series of youth and civil society workshops with 6-8 hours of contact learning for participants. Subjects covered will include an exploration of what Woodward calls the transitional justice 'landscape' comprising the various successes, failures and challenges. Workshops will also aim to dissect lessons learned from international projects and processes and to compare and contrast conventional mechanisms of justice with unconventional and artistic approaches. This latter point really pronounces 'Transitions' raison d'être. While didactic text and data about conflict and the conciliatory rebuilding gives people a straightforward enough account, it lacks involved engagement. The striking visuals of 'Transitions', however, compel audiences to view the peace process in a more intimate manner. In scanning these snapshots of struggle and success, those moved by conflict can frame their troubled state in relation to broader connections.
Obstacles do still lurk on the long road to recovery, such as post-conflict citizens' very real fear that their peace may not endure ongoing ethnic tensions or institutional segregation. In recent decades there has been a global acknowledgment that sustainable peace cannot simply be denoted by the absence of war, but rather the presence of justice. The notion of justice and how best to achieve it is still nebulous for many, but projects like 'Transitions' endeavor to strengthen inter-ethnic dialogue and move communities further along this road. Thomas closes by asserting her faith in people's willingness to raise the necessary questions and search for the answers; 'Transitions' contribution to an answer is the transforming of 'justice' from a cloud of ambiguous ideals to a series of tangible goals.
—
The Balkan debut of 'Transitions' took place during the 4th annual War Art Reporting and Memory (WARM) Festival in Sarajevo from 28 June to 2 July 2017. Organized by the WARM Foundation in collaboration with the Post-Conflict Research Center (PCRC), the WARM Festival brings together artists, reporters, academics and activists around the topic of contemporary conflict.