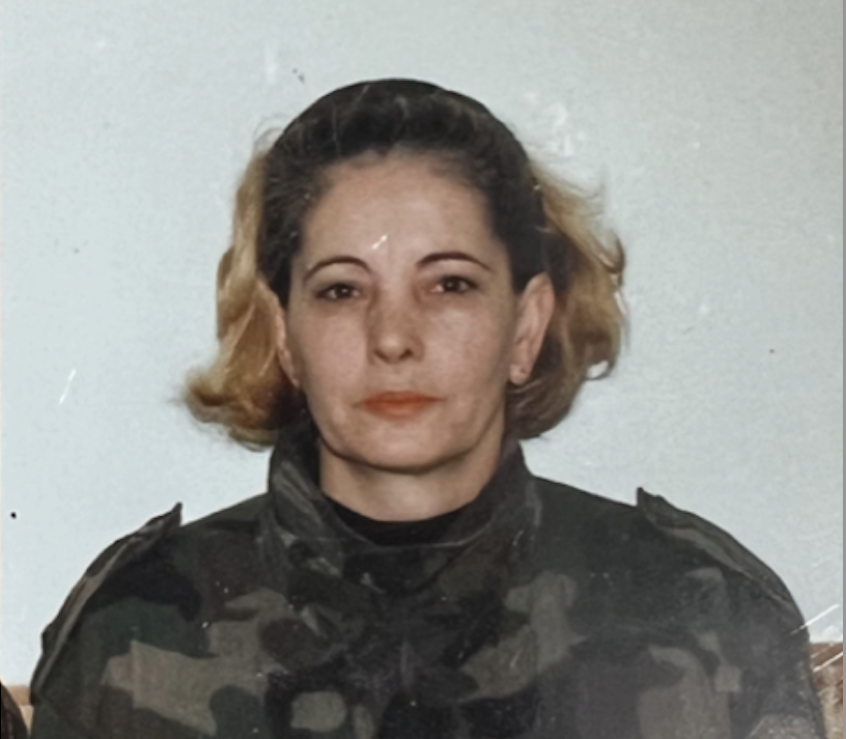 Balancing art and army, Ramiza Sarić confronted enemy occupation on two fronts during the wartime period in Bosnia and Herzegovina: the cultural and militaristic. Today, at the age of 77, having traveled the world extensively, she claims that we are "the best country with the best people who are the most cultured and civilized."
For years, Ramiza had been sewing military uniforms for the national Yugoslavian military, Germany, and Libya. Then, due to "hunger," she joined the Army of Bosnia and Herzegovina, and because of her refined tailoring skills, she also became a costume designer for the Chamber Theater in Sarajevo, which, as she states, served as a mental escape from the chaos.
Ramiza was born on August 1, 1946 in the town of Gacko, Bosnia and Herzegovina (BiH) where she spent her childhood coming from humble beginnings, tending to the animals on her family's farm. As a teenager, Ramiza resettled to Mostar for secondary schooling that educated her in the art of tailoring. After mastering these skills she moved to the capital city of Sarajevo in search of better employment opportunities during April of 1970. In this endeavor she was able to successfully secure employment at a military enterprise in December of 1970 where she worked as a skillful seamstress, sewing and producing uniforms for the national Yugoslavian military and also for foreign nations like Germany and Libya.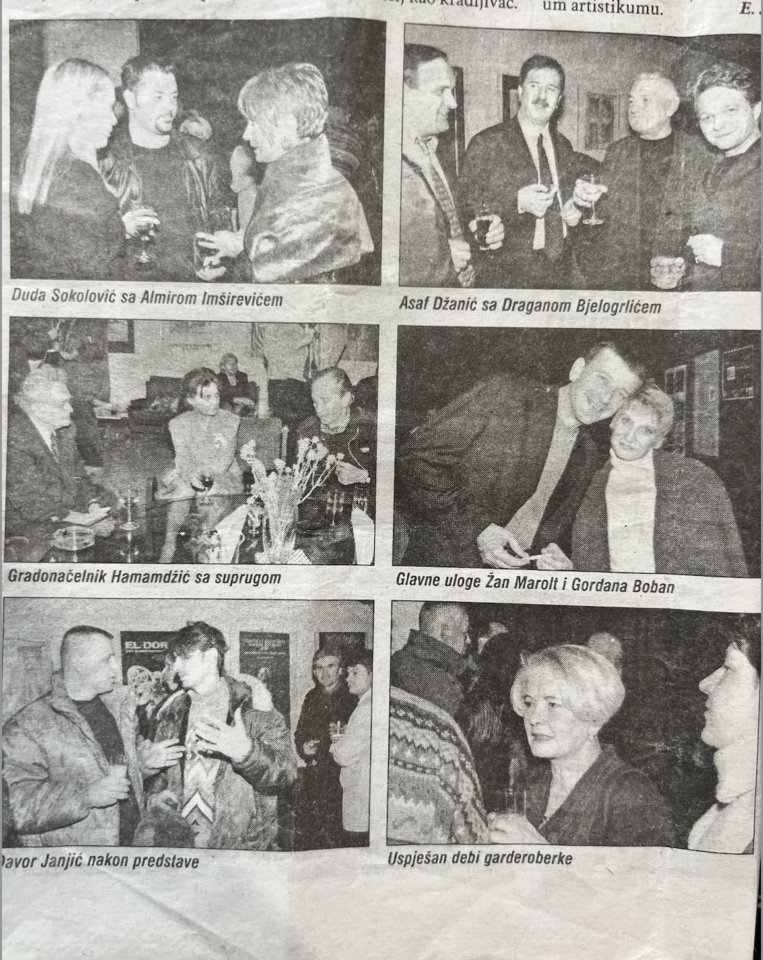 Ramiza held this position until the time leading up to the war when many essential grocery items were becoming scarce and the need for food led Ramiza to join the military in 1992 and work in the logistics field. 
"I joined the army because of hunger. I had nothing to eat at home. I had to survive off of my army rations," Ramiza recollects. During this period of war preparation, Ramiza's role as a military logistician had her supervising the movement of supplies, weapons, medical aid, food, etc.
A few months after joining the military, Ramiza was launched into the realm of costume design, all by chance. She met an actor from the Chamber Theatre at her neighbors apartment when she was over for coffee. During their encounter he brought up how the theater was in need of a new costume designer. Fortunately for Ramiza, she possessed the delicate seamstress skills that aligned with the theater's requirements and when she revealed her hidden skill set, the actor instinctively brought her to the Chamber Theatre. It was here where she was immediately introduced to the Theatre director, Gradimir Gojer, who welcomed her arrival with an unexplained certainty that she would be an exceptional fit for the role. With unquestionable confidence, he assured Ramiza that she would not have any difficulties navigating the world of theater, despite not having any prior experiences related to it. 
Ramiza accepted the position on the condition that her military commander would allow it. The next day, Gradimir personally went to her military commander to notify him about her impending employment at the theater and to seek his permission on granting Ramiza time off from her military obligations to assist with staging theater productions. The military commander approved, and within a few days Ramiza's tale of going from the battlefront to the spotlight would begin. 
A dark chapter in her life
Whenever Ramiza's skill sets were needed, Gradimir would send for a car to transport her from her current military post to the theater, no matter the distance between the locations. This arrangement continued even when the conflict began which only increased the risks of the transportation. Nonetheless, Ramiza recalls that they never encountered any issues and that Gradimir's transportation service ensured her safe return to her military duties.
Furthermore, Ramiza described her time in the army as a dark chapter in her life, having to constantly witness the agonizing scene of wounded soldiers among whom was her son, Asim, who sustained some injuries while fiercely fighting in the town of Vitez. Ramiza not only held these motherly worries for her own son, but she also extended it towards any hungry children/teenagers that she encountered during the war. For them, she would bend the rules to ensure that their famished bodies received some form of nourishment that filled their empty stomachs. Ramiza would cleverly strategize for these children/teens to arrive for their meals, an hour after the army was scheduled to eat lunch.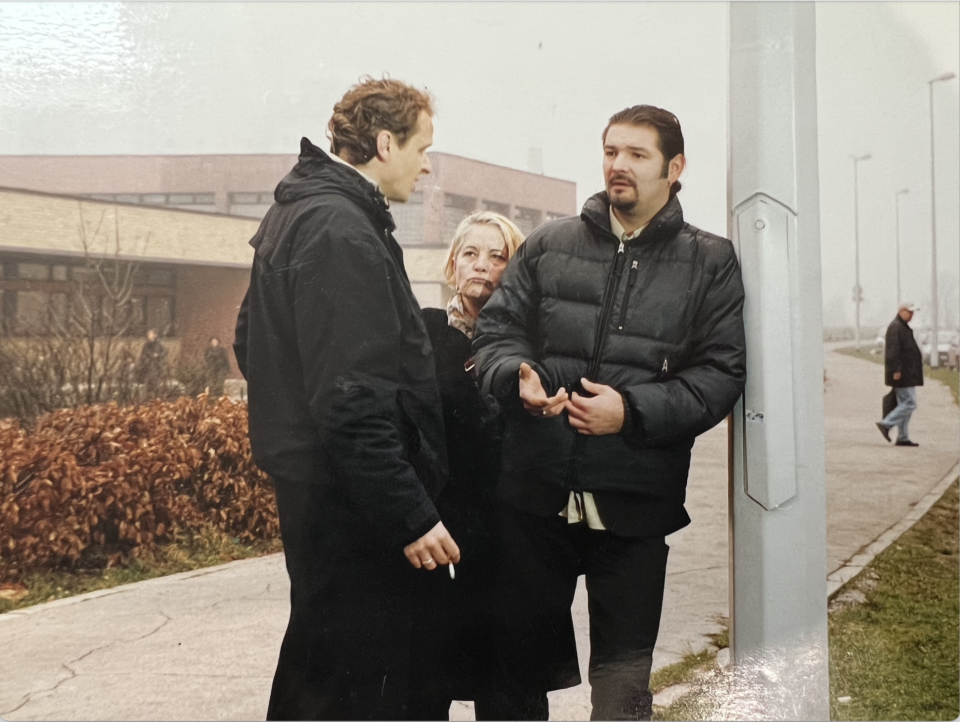 There would always be an assembly of around 20-30 of them, greeting Ramiza with warm hugs and kisses to show their gratitude for her selfless actions. Ramiza would remind them that if anyone questioned their presence, confidently say that you are affiliated with the BiH army. The only individual that knew a part of the real truth was Ramiza's commander who she confided in that these were "her children from Gacko" who had nothing to eat. 
In addition to these hardships, Ramiza highlighted the uncertainty that the wartime narrative held for everyone. 
"No one could predict whether they would be alive in the morning. As soon as you enter the house, a shell hits. Many shells fell. Sometimes, we didn't really hide or anything," explains Ramiza.
This fragile existence of life was made clear to Ramiza when her Sarajevo apartment fell victim to a devastating shell bombing that left one of the rooms completely destroyed and unlivable. Yet despite the struggles that the war offered, Ramiza persevered through her involvement in the theater that offered her a mental escape from the chaos. She even went as far as to say that in the end her life changed for the better during the war because of the doors that the Chamber Theater opened for her. 
Behind the stage light, Ramiza's imaginative mind was allowed to flourish in designing and altering the costumes for the productions. At times, her responsibilities would even extend to watching over hair and make-up transformations as well. Ramiza's work allowed her to forge close relationships with the famous actors/actresses to the point where she became the gatekeeper to eager journalists who sought celebrity interviews with them, attempting to gain access to all of the insider secrets. Some of the famous actors/actresses that Ramiza would regularly interact with include Dragan Bjelogrlic, Ljubisa Markovic, Jasna Diklić, Zoran Bećić, Riad Ljutović, Izudin Bajrović, and Boris Dvornik, all of whom held immense respect for her. 
Creativity in the film industry
Among these accredited celebrities, Ramiza's professional collaborations with Enis Beslagic and Mirvad Kurić remain her favorite to this day. Although, Ramiza proclaims that her son, Asim, was always more important to her than any of the actors. She calls him "her hero" for his heroic and courageous actions performed during the war that awarded him the Golden Lily military medal. 
After the war ended, Ramiza was able to slowly start to piece her life back together. Her first move was to use her saved theater earnings to entirely reconstruct her destroyed Sarajevo apartment, without resorting to borrowing any financial loans. Ramiza emphasized that she was one of the fortunate ones to have a well paying job in post-war BiH, especially with the rampant inflation at the time that is still vividly marked in her memory. She recalls the usage of "bonovi" which were pieces of paper that were specially stamped and used as a form of currency during and after the war. However, the low value of bonovi combined with the high inflation caused buyers to resort to carrying around stacks of bonovi in order to purchase items on their shopping lists. This situation resulted in the value of cigarettes to grow as a key bartering item and a medium of exchange.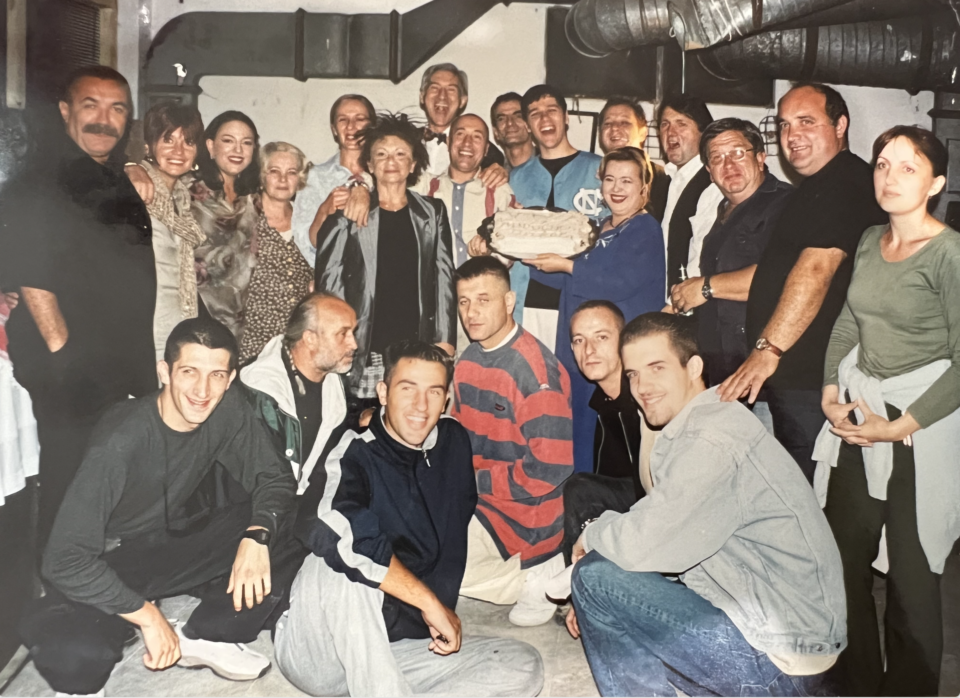 On December 22, 1997, Ramiza was able to fully retire from her military obligations and only focus on her work at the Chamber Theater. This new period of diplomatic peace allowed Ramiza to begin applying her creative expertise in the film and TV show industries. Some notable productions that she contributed to include "Viza za Budućnost," "Crna Hronika," and "Mliječni Put." 
Ramiza's work at the Chamber theater also gave her the opportunity to travel to foreign countries like Spain, Albania, Germany, etc with the Chamber theater crew to put on theater and film productions.
Ramiza retired from her work at the Chamber theater in 2010, but she still holds strong affiliations with them today. After a fulfilling career in theater and film Ramiza's parting message to the Bosnian youth community is to always cherish their nation and never forget their native origins.