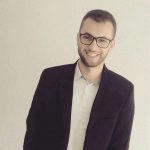 —

Abdullah Kozlić

—

Abdullah Kozlič is a Balkan Diskurs trained correspondent from Zenica. After completing technical high school, he plans to continue his education at the Faculty of Political Sciences in Zenica. Abdullah is active in several non-governmental organizations in Zenica.
For some time now, the public has criticized the ArcelorMittal steel plant in Zenica because of its direct ties to air pollution in this Bosnian-Herzegovinian town. Balkan Diskurs correspondent Adullah Kozlić spoke with ArcelorMittal's Environmental Protection Manager, Azra Sivro, about potential solutions to this problem, as well as the company's plans for the future.
Solving the air pollution problem in Zenica requires investments, both for industrial plants and home heating systems that use coal.
The phenomenon of expressing hatred in the stands and stadiums of Bosnian football clubs has not yet subsided. Experts claim that those in the stands are used to expressing the rage accumulated in their personal lives.