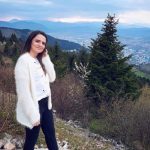 —

Dženana Salihović Dokara

—

Dženana is a trained Balkan Diskurs correspondent from Srebrenica, who recently completed her engagement at the Memorial Center, and moved from Srebrenica to Sarajevo.
Sisters Ćamka, Kadira, Fatima and Đeneta Bektić from the village of Jasenova became famous because of a photo of them galloping on horses through the snow-covered forests of Srebrenica. They say that they do not remember whether they first learned to walk or to ride.